albums / Strange Little Girls

press release / discography / photos / tour

"the girls" by Neil Gaiman

---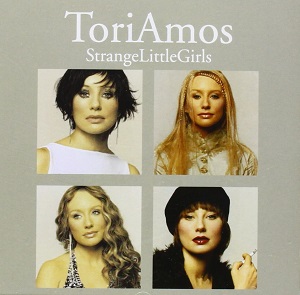 [liner notes]
Strange Little Girls (2001)
lyrics & quotes

1. New Age (The Velvet Underground)
2. '97 Bonnie and Clyde (Eminem)
3. Strange Little Girl (The Stranglers)
4. Enjoy the Silence (Depeche Mode)
5. I'm Not in Love (10cc)
6. Rattlesnakes (Lloyd Cole)
7. Time (Tom Waits)
8. Heart of Gold (Neil Young)
9. I Don't Like Mondays (The Boomtown Rats)
10. Happiness is a Warm Gun (The Beatles)
11. Raining Blood (Slayer)
12. Real Men (Joe Jackson)

B-Sides

After All (David Bowie)
Only Women Bleed (Alice Cooper)


Tori's sixth solo album, Strange Little Girls, was released on September 17, 2001 (UK) and September 18, 2001 (US). All the songs were written by men; Tori found a woman's voice in each song, without changing the words.


---
Tori talks about Strange Little Girls

"I've always found it fascinating how men say things and how women hear them. Words can wound and words can heal, and both are included on the album. I've heard a lot of people say, 'They're only words; what is everybody going on about?' But words are powerful; words are like guns. Your fingerprints cannot be erased from your words; you only leave the scene of the crime covered in ink. A person has to take responsibility for their words. We as writers cannot separate ourselves from what we create. All of these songs were created by powerful wordsmiths, whether you agree with them or not." The 12 songs are told through the eyes of 13 women (one song features twins), each of whom has her own story to tell. "Each woman approached me and said, 'I have a point of view on this song, that you may want to know, that may change how you hear its meaning.'" [Atlantic Records online - July 2, 2001]

"This is not just about songs that meant something to me when they came out - this is not what it is. This is about how men say things and how a woman hears. This is about the myths of our time, now. What are they? Whether a song is 30 years old or 2 years old, it had to resonate with that. This is about... words are like guns. Words can wound and words can heal.. This is about building a bridge where a woman could go crawl behind the corridors of men's eyes, and hang in their heads, likewise, a man can crawl back over that bridge and access a woman's perception -- which is a very intimate thing, her perception! So there is an integration happening there, instead of a segregation which I saw happening in America at this time as I was nursing my baby." [Polish Radio 3 - August 2001]

"One of the real premises for the record was how men say things and what women hear. To do that, I had to first be clear on what a man's hearing and what a man says... Also, they [the songs] had to reflect our time. There had to be some kind of resonance." [Ice - September 2001]

"I was nursing Tash in Florida, and I was hearing a lot of male artists on alternative radio. And some of them really hated women. I thought about my daughter and what these guys were thinking about women. I wanted to build some kind of bridge, and I figured that was the only way to get into the heads of these men." [Blender - Aug/Sept 2001]

"I have thought a lot about these women ... Where do they come from? What do they like? What do they think? In the end, the image of these women was very concrete. I could even imagine how they look, and for the booklet I had myself photographed in those different roles." Do you sing the original lyrics? "I just left out a few words here and there. The originals do quite stand for themselves. ... Words can always hurt and they can heal. Their power is underestimated. I always hear, 'Well, they are just words, this all is probably not meant that way.' But words are weapons. And men know that very well. But they rarely take the responsibility." [KulturSPIEGEL - September 2001]

"I really wanted my versions of those male songs to become 'the word made flesh,' like in the Bible. By interpreting their lyrics from a feminine point of view, I took possession of their seed. You take a man's word, you take his seed. I went in their heads, and if I turn their words against them, it's checkmate."

Did you actually tell those men about your plans? Lou Reed, Eminem, Bob Geldof, Joe Jackson, Neil Young...?

"No. I approached their companies, so they know about it. But I didn't approach them personally. That would have looked too much like I asked permission, and I don't want to give this project less power through their opinions. Imagine Lou Reed would say, 'What a crazy idea! Who does she think she is?' Maybe it's a matter of self-protection as well. Most men don't like it if you show them a mirror. This is the way I see it -- I started a relationship with the daughters of those male composers. And what matters are your feelings towards the one with whom you have a relationship. What mom and dad think about, it doesn't matter." [Samsonic - Sept/Oct 2001]

"One of the real premises for the record was how men say things and what women hear. To do that, I had to first be clear on what a man's hearing and what a man says... Also, they [the songs] had to reflect our time. There had to be some kind of resonance." [Ice - September 2001]

"Each of these songs became a myth of our time and, whatever you think of these songs or these writers (and even with my own work), certain songs transcend us. Yeah, I have pictures in my head when I hear my songs Winter and Professional Widow, but they are not going to be the same pictures that you see. My personal experience with a song is just my personal experience. And a song goes beyond that. So, in this land of myth that you walk into in each song, it was a different male seed/vision, that I was taking to put into my garden. What I didn't realize, when I took their seed, is that I would also have to take a little egg back with me. [laughs] That's the trade-off that happens in mythology. That's how the land of myth works. It's a sort of strange and mysterious world. These women [characters] were hitting me from all sides. They would just come in and take over." [Next - September 7, 2001]

"I wanted to go to some of the great poets of my generation, like Neil Young and Lou Reed, and crawl behind their eyes to see what they were thinking. I really felt like, as a songwriter, the only way to explore the power of the word was to use men's words. It fascinates me, the things men say and how women hear them. There are a lot of things being said by young guys that intrigued me."

"There's stuff out there right now that really isn't happy with women. I believe in freedom of speech, but if you're saying stuff just to shock people, and if you don't believe in it? Then that is what I have an issue with. These guys were saying, 'It's only words,' and they talk about cutting women up and that kind of thing. We all can have a dark sense of humor. But there's just a place where I said, no, no, no. If you're going to say stuff, have the balls to stand by it. You can't sell a million records, then go, 'Only kidding.'"

"Strange Little Girls is about the power of the word. Words are like guns. I've never heard so many women being okay with being demeaned. I don't know if your readers' generation remembers when Gloria Steinem got up and started talking. I was a little girl in the late '60s, but I remember freedoms for women that were hard-won that are taken for granted now." [Cosmogirl - October 2001]


---
Strange Little Girls magazine ad
from Billboard magazine (US), August 25, 2001


---
t o r i p h o r i a
the World of Tori Amos
www.yessaid.com