Tori Amos
Night of Hunters
UK Release date: September 19, 2011
US Release date: September 20, 2011

There is a regular CD version plus a Deluxe Edition that includes a DVD with a 13-minute documentary and two music videos/performances ("Carry" and "Nautical Twilight"). The album was also released on vinyl.

Tori Amos was approached by the classical music label, Deutsche Grammophon, to compose this project. Tori said, "the idea was revealed to me by a Doctor of Musicology, Dr. Alexander Berg. He said, 'surely you're ready to do a song cycle based on classical themes for Deutsche Grammophon.' So that was the beginning." Long-time collaborator John Phillip Shenale worked closely with Tori on the string and woodwind arrangements for the entire project.

* On May 5, 2011, Night of Hunters was announced [read the press release].

* On August 18, 2011, a music video for the song "Carry" was released via toriamos.com and on youtube. An audio track of "Shattering Sea" was released the same day on Tori's official facebook page.

* On September 14, 2011, Decca Records posted the complete Night of Hunters press kit video on youtube.


---
---

THE SONGS

Each song on Night of Hunters is based on a classical composition.
(get the originals here)

1. Shattering Sea
Alkan, Prelude op. 31 no. 8, The Song of the Mad Woman on the Sea Shore [listen]
2. Snowblind
Granados, Anoranza (from 6 Pieces on Spanish Folksongs) [listen]
3. Battle of Trees
Satie, Gnossienne no. 1 [listen]
4. Fearlessness
Granados, Orientale (from 12 Spanish Dances) [listen]
5. Cactus Practice
Chopin, Nocturne op. 9 no. 1 [listen]
6. Star Whisperer
Schubert, Andantino (from Sonata in A major D 959) [listen]
7. Job's Coffin
inspired by Nautical Twilight
8. Nautical Twilight
Mendelssohn, Venetian Boat Song (from Songs without Words op. 30) [listen]
9. Your Ghost
Schumann, Theme and Variations in E flat major WoO 24, "Ghost Variations" [listen]
10. Edge of the Moon
Bach, Siciliano (from Flute Sonata BWV 1031) [listen]
11. The Chase
Mussorgsky, The Old Castle (from Pictures at an Exhibition) [listen]
12. Night of Hunters
Scarlatti, Sonata in F minor K. 466 [listen] + Salve Regina (Gregorian Chant) [listen]
13. Seven Sisters
Bach, Prelude in C minor [listen]
14. Carry
Debussy, The Girl with the Flaxen Hair (from Preludes I) [listen]


---
Night of Hunters promotional sampler CD
Deutsche Grammophon UCGR 002362

1. Shattering Sea 2. Nautical Twilight 3. Edge of the Moon 4. Carry




Night of Hunters promotional CD (complete album)


---

Night of Hunters: Sin Palabras (Without Words)

December 13, 2011: An instrumental version of Night of Hunters is released.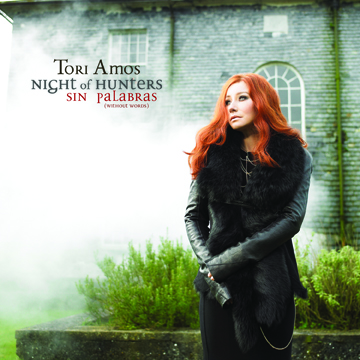 ---
Night of Hunters promotional advertisement released online at the end of July: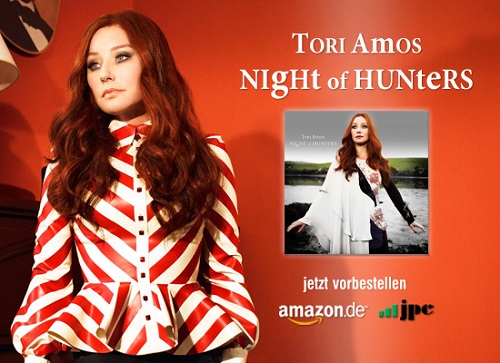 ---

The Apollon Musagète Quartett worked with Tori Amos in Cornwall from June 20-23, 2011, for Night of Hunters. They are also peforming live with her on the 2011 tour. On September 12, 2011, undented.com posted an interview with the Quartett.



Piotr Skweres - cello
Piotr Szumiel - viola
Bartosz Zachlod - violin
Pawel Zalejski - violin




Other musicians on Night of Hunters:

Andreas Ottensamer - clarinet
Nigel Shore - oboe
Peter Whelan - bassoon
Luke Whitehead - contrabassoon
Laura Lucas - flute
---

TORI QUOTES ABOUT THE ALBUM

"There's a dark force gathering. And some hunt for power, others to invade childrens' dreams... Anabelle has come to awaken other forces... to remind [the woman] of her own life force. But Anabelle has to go out into the night even though there are hunters out there. And those, they are hunting for childrens' dreams..."

"I think Night of Hunters is a compilation of experiences that Mark & I have had for over 16 years... We're still together, knock on wood. And we work together & we play together. And we're trying to be parents together. And it's difficult sometimes when you have to be the grown-ups. ... So the song cycle in a way, I would say, I understand the man and woman very well in it. It's not exactly a play by play of me & Husband, but there is a bit of us in there here & there."

"I have to believe that in dark times the public yearns for Avant-Garde creativity. And needs something that nourishes the soul. I do believe that. The question is, one must be diligent and not sleep. Uhm... and they have to find ways of getting the message out there. And sometimes that just takes tenacity and help from the fairies."

"Tori goes to see the fire muse, [her] spiritual mother force... The fire muse explains that instead of reacting to these [dark] forces with revenge and destruction... you must find love instead of their blood by your thorn. And this is a process of learning how to use her force. And instead of being destructive with it, [the mission] is to out-create destructive forces. And that's part of her journey."


---
t o r i p h o r i a
the World of Tori Amos
www.yessaid.com