albums / from the choirgirl hotel

epk / promo bio

discography / photos / tour

---


Atlantic Records promo bio
May 1998

"The piano was so excited -- so excited because she didn't have to masturbate for the first time in a long time!" Tori Amos is talking about the making of her new album. She's talking about it in that explosively disarming way she talks about things that excite her, too. "This was our chance to go to the playground and meet the other kids," she adds.

"from the choirgirl hotel" is Tori's fourth album proper, following her three consecutive RIAA platinum releases, "LITTLE EARTHQUAKES" (1992), "UNDER THE PINK" (1994), and "BOYS FOR PELE" (1996). Those albums established Amos as one of the most strikingly gifted vocalists and songwriters of the decade. Unorthodox, uncompromising, and unashamed to follow her own unique musical instincts -- wherever they might lead -- Tori also emerged as a piano player of unusual brilliance and complexity. No one wrote songs, sang songs, or played songs quite like this girl who first sat down at a keyboard at the age of two and a half. Now, with the recording and release of her new album, again self-penned and self-produced, Tori is coming at her music from a new angle.

"I developed this record around rhythm," she says. "I wanted to use rhythm in a way that I hadn't used it before; I wanted to integrate the piano with it. On the whole record, the piano and vocal were cut live with a drummer and a programmer. I didn't want to be isolated this time 'round -- I've done the 'girl and the piano' thing -- I wanted to be a player with other players."

The results, though unmistakably Tori, are unquestionably different. Compelling lyrics are coupled with pulsing, polyrhythmic patterns -- to dramatic effect. Although ultimately more of an evolutionary musical change than a revolutionary one, this self-imposed shift of focus has certainly been one to keep Tori on her toes. "The piano player knew her head was on the chopping block with this one," she says with a smile. "She really had to practice hard to be able to play with these guys!"

Recorded in Cornwall, England in a 200-year-old barn converted into a studio, "from the choirgirl hotel" finds Tori joined by a core band consisting of long-time collaborator Steve Caton on guitar, Matt Chamberlain on drums, bassists George Porter Jr. (Meters) and Justin Meldal-Johnsen (Beck), and programmer Andy Gray. And on stage, Amos is now joined by Caton and Chamberlain, with Jon Evans on bass -- marking her first-ever tour with a full band. This, too, represents a major evolution for Tori as a performer. Since the beginning of the decade, she has communicated intimately and passionately with her live audiences simply though her voice and piano -- in the process building one of the music world's most fervent, dedicated followings. Now, by enlarging the sonic scope of her live work, she is taking the Tori concert experience into a whole new realm.

"from the choirgirl hotel" could mark further changes in the career of an artist whom, in the past, so many encouraged to court controversy. Listeners and observers straining to hear or see the effortlessly provocative, apparently "kooky" Tori Amos of legend may be a little unsettled today with the eloquent, honest woman whose definition of girl power is simply: "The power is in the people being moved." Tori seems no longer interested in playing up to people's expectations or seeing her words twisted into oddball shaped for the amusement of others. "I've already given God a blow job," she says. "After you've done that, there are other things that interest you."

"This record got me through a real bad patch," Tori concludes. "But I can laugh with this record, and I can move my hips to this record, which is really good for me. It's very sensual -- that's the rhythm."

Long may the beat go on.


---
from the choirgirl hotel promo photos
by Darren Keith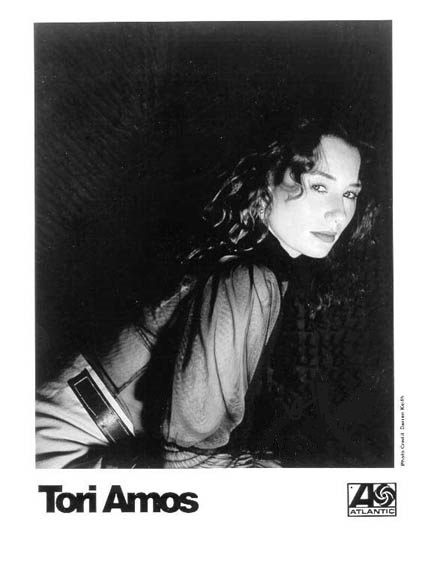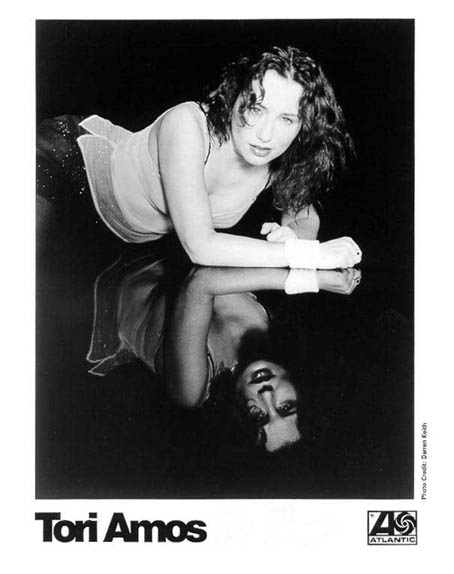 ---
t o r i p h o r i a
the World of Tori Amos
www.yessaid.com