songs | interviews | photos | tours | boots | press releases | timeline | stories

---

press release | discography | photos | tour | legs & boots | interviews

---
The Doll Blogs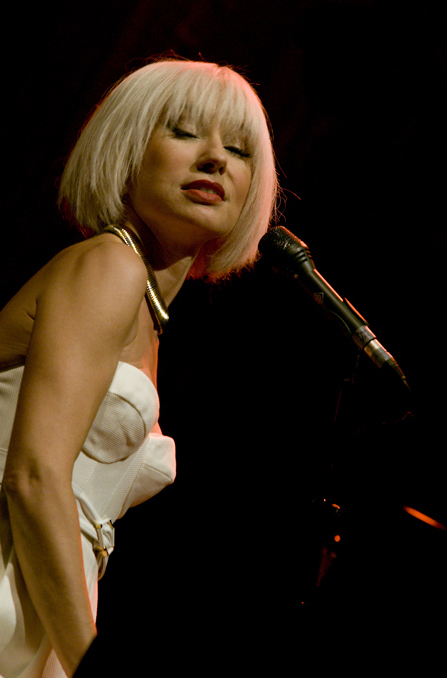 I Am Posse Santa
[on myspace]

About me:
Santa

Beauty. What is that to you?
A) Architecture
B) the light on the water turning it into aquamarine
C) another woman's face or hair or figure that you quietly crave for 30 seconds
Passion. Are you passionate about anything? What do you see when you look in the mirror? Stop. Don't turn away. Stay a while. Let's look closer. No. You are not allowed to find the faults first, not in my game. We will find the Beauty first.


---
Thursday, June 14, 2007 - 4:26 PM
Santa's Travel Tips

Hi boys and girls, long time no speak. The traveling has been stressy to say the least. But a girl can get by if she just packs wisely. Speaking of packing, these airlines are wrecking my scene. I've been put down to one bag for Finland. I tried to get Isabel to give me half her bag because lets face it she can sleep in the same clothes as long as she has her camera and her rollups. So if you ever find yourself being reduced to one back on a flight to the land of the midnight sun there are a few things a girl should never forget. We are going to prioritize things:

Number one: Flatiron- Butane is best. Why? Avoid those international plugs. Your trusty flatiron needs to never let you down, or I should say- let you curl.

Number two: Lunesta, you get the sleep without the hangover. I don't have time to oversleep.

Number three: Lipstain- Nars Indian Red. Not only does it not rub off on my microphone, it doesn't rub off anywhere, not even on your pillow.

Number four: Magic Jeans. Now magic jeans are the must have item for every traveling female. Not only are magic jeans contoured specifically to a woman's hips, but they give you a long leg and you can sit in them for hours without feeling any pain.

Number five: Medium heel sandal that goes with almost everything. This is so incredibly important 'cause when you only get one bag your medium heels have to be versatile. I suggest a metallic Sergio Rossi.

Number six: Almost see-through long sleeve black and nude Wofford bodysuits. These can go under anything when the weather changes from hot summer day to chilly northern feels like winter weather. This way all your spring/summer looks are still usable and cute but you just have these form fitting body-hugging friends.

Number seven: Lavender sleep mask. When you are traveling to places that are almost constantly in daylight, you have to find ways to shut out the light. I can't sleep in the light. I have a hard time sleeping full stop. Lavender keeps your eyes from swelling, which let's face it when you're not getting any sleep you can use all the help you can get.

Number eight: Always carry a warm zip-up hoodie. I had no idea how frequently I would be reaching for my faux fur zip-up hoodie. It was a little something I purchased for a ski-bunny adventure. It was a last minute - o h I'll just throw it in my bag afterthought and boy oh boy I am living as a ski-bunny in the summer. May I say boys and girls that I am one of the few who has no goosebumps.

Number nine: Luna bars. For those who have cut down on their carbs let me tell you Europe will not be your greatest support system. Bread, Bread, Bread, Bread ... endlessly. Ok so the fruit is good, but when you're one the run you just don't have time to sit and have a two-hour fruit fest. A coffee to go is easy to find anywhere and consistent, therefore if you always have "a bar that can be a meal" in your carryon, oh hell make it two or three, you will survive the horrors with no starch on the sauce.

Number ten: Last but not least your toiletry bag must be completely self-contained. Besides all the obvious amenities make-up remover isn't allowed on the carryons, therefore Simple do the best wipes that I've found. It works for sticky fingers as well. Nail polish remover pads with acetone, it's a must. You also must carry not just one but two nail varnish colors otherwise it limits your outfit choices, I'm rocking Silver by Chanel and a color I keep secret. Also in this group the most important would be pentaxyl cream. Literally this little product is what we call botox in a bottle. It definitely is a cream that has surprising results.

I hope this little list of mine entertains as well informs. Think of me as I make my way to the land that never sleeps, the tour manager has just given me my wake-up call time. I will be dressing for the plane in a few hours and lounging until I'm called.

Love and Lippy
Santa

---
Wednesday, June 20, 2007 - 3:03 PM
Chocolate Hats

Nef offered to fly out. "Santa, gurrrl, times are hard ch'il."

"I honestly don't mind the traveling Nef. That doesn't get to me."

She interrupted, "Now you know honey I am not making any kind of whore-of-travel kind of reference. You know what I'm on about."

Not budging I quipped, "What are you on about?"

"Look honey, the way I see it is that this Athletic Piece is traipsing all over western Europe and deserves a quick feeling of strawberries and cream inspiration."

"Oh please Nef, I would be forcing myself."

"Look gurrl that Russian Piece is MIA- honey all is quiet on the Eastern front."

"But it's not quiet Nef."

"Come on now, have you been holdin out on me?"

"No, no it's not like that. Before I went on stage tonight in Warsaw a small box appeared in my dressing room"

"Don't tell me with no note."

"Hold on. I'll look at the small plain card that came with box. So there is nothing except a small X."

"Spill gurrrl and in the box?"

"Well in the box was a thin silver chain with a clear stone in the shape of a tear drop."

"Now you listen up, listen to me Santa, you can't let your hopes take over your sense of reason."

"But Nef come on who else could it be?"

"Who else could it be? It could be endless possibilities. Mr. Goldenfoot for one, have you thought of that? You've probably reduced that one to tears with that whole 'I'll see you in London' routine."

"Nef, a small Tiffany's box is not a style."

"And how do you know a small Tiffany's box is certainly more affordable to him than for, Mr. Tall Dark and Sneaky."

"Good heavens Nef, I get the impression you are actually rallying behind a jock of all things."

"Look honey I don't trust those ultra quiet types, they're usually doing shows and events of cloak and dagger and don't let yourself forget for one minute you met the Russian through the connections of Miss Thing."

I had to laugh, "Why do you call Pip Ms. Thing?"

"Now gurrl, you know I know all about Ms. Thing and I ain't mad at her, but Ms. Thing don't have her heart involved anywhere near her film noir lifestyle. That girl is on a mission and ain't no fool gonna get close to that heart of hers."

"I'm a big girl Nef."

"Yea uh huh, I know your no man's fool gurrl, but ultimately you live to love Santa and I'm not convinced that love has any business in smells like organized crime film noir lifestyle."

"Oh c'mon Nef now if that doesn't come from a scene from one of your old favorite black and white movies then I'll eat a chocolate hat."

"When are you in Switzerland gurrl?"

"What? That was random. I don't know, next week maybe."

"Well sugar, I'm sure they make chocolate hats in white, milk and dark."


---
Friday, June 29, 2007 - 6:52 PM
Santa Update

Dear Digital Peeps

I write to you from the steam sauna and jacuzzi area of this posh spa here in Zurich. After a session of a hot rock massage and a fresh peach ice tea poolside, I am prepared to confess almost all. The last ten days have been beyond. How do you put to paper emotions that make you want to put "Rapture" by Blondie on repeat and dance in a silk negligee until you drop? Falling for someone makes every little detail matter, or not matter. For instance, food tastes better, squabbles with girlfriends begin to seem trivial, art comes to life when you're simply holding hands and staring at a painting. For the first time in my life I finally get what Clyde sees in "dried paint". Okay, okay I know I know I know, it took me long enough but really it takes what it takes. Taking walks through the magical architecture of Prague still feels me with wonderment. We bought two marionettes for one of my nieces in the States in a little shop hidden away on our way to Prague Castle. The Czechs are famous for their puppetry, which they began making by the end of the 18th century.

Mikhail professed not knowing Prague very well, having only been here briefly once. I find that slightly odd only because he seemed to know every nook and cranny of the old town. He brushed off the compliment by professing to be "lucky with directions and a decent map reader." He took me to a few places that he said had made an impression on him the time he was here. The museum of Czech cubism at the House of the Black Madonna was one of the first stops we made where we tucked into the Grand Cafe Orient, which originally opened in 1912 and had been closed since 1925. Just being in this creative space, which was reopened in 2005, conjures up a time long gone when women would actually dress up to meet some dark handsome for a coffee. Another highlight would definitely have to be the Lobkowicz Palace built in the mid 16th century which houses one of the most extensive private art collections in Europe. I never knew so many scores of music from the past could have been so well preserved. The Palace has collected over 4000 scores including Beethoven's 4th and 5th Symphonies, the originals with notes written in his own hand. We actually ran into Clyde there and invited her to join us, but she smiled shyly and assured us she wanted to take in the paintings on her own. From cafe to cafe we sat outside basking in the beautiful weather and the surroundings. I realized that this is a part of Europe that I will dearly miss. On our last night there we had a table right on the river at Kampa Park, an outstanding restaurant that looks out onto the Charles Bridge and one of the most romantic places to eat in the world. We only separated in order for me to take stage in Budapest and then reunited for our last days together in Ljubljana, Slovenia. Another couple of days filled with walks, hand in hand, past the Franciscan Church of the Annunciation of Mary on our way to Ljubljana Castle. This charming town spun its own magic around us. There were no goodbyes when we parted this time. It was fitting that we parted company in what was once considered the Balkans. I'm still floating; I have a feeling he will be dropping in sooner rather than later.


---
Tuesday, July 03, 2007 - 2:54 PM
santa in london

Hello there boys and girls,

London calling. It has been nonstop. Let me tell you the theatrics never cease. Yesterday, Nef and I were just doing an innocent bit of shopping and low and behold that footballer was coming in the door as we were going out.

He smiled and said, "See ladies, I knew I'd find you here."

Nef put her hands on her hips and said, "You think you're hot doggin my gurl down, Santa's only been in town a few hours and you just sniff her out."

He gleamed and I must say it was quite sexy when he said, "I would know that lovely scent anywhere. I have a table reserved and Nef please join us. I've pulled a small party together to celebrate the posse coming to London."

Nef put her hand on his arm, which was more than arms length even for Nef who is not a short woman.

She corrected him by saying, "You mean you've pulled a small party together to welcome Santa darling to London because I don't think we'll be seeing any other members of the posse at this little gathering."

Taken aback, he got all serious saying, "Santa I know you're seeing somebody and I told you I'm fine to just be dinner date pals for now, but you're gonna get tired of him one day. And I just want you to know that in life before a relationship heats up to sexy, it's good to know you've got a friend."

So call me a hussy, we joined his dinner party. To be fair, it was really lovely. On the way home Nef had maybe one drink too many and couldn't stop herself from suggesting, "Ohh Santa gurrrl a superstar footballer dined on you all evening, feasting his eyes on what is forbidden."

"Nef honestly I feel terrible because he really is a sweet guy and maybe if I had met him first then we'd be having a different conversation right now."

"Different conversation, Santa honey, we wouldn't be having a conversation because he'd be all up in your business right now."

"Keep it to yourself Nef. I can't be thinking about that, it's too close to cheating in my mind."

"Ooh gurrl, see you could entertain Mr. Athletic if we could get rid of Mr. Am-I-A-Criminal but still gorgeous and Russian type of look."

I had to laugh, "Now you're just being silly, suggesting Mikhail could be a criminal, of all things just because he's mysterious and handsome."

"Uh huuh, you heard it here first sista let the world know that Nef is suspicious of how he's never been really anywhere but knows everywhere like the back of his hand. I ain't buyin it, somthin is up with that one gurrl. Enjoy the seduction, but I would still be givin Mr. Athletic an All-Access-Area pass to the London shows."

"He asked for four tickets Nef for the first show."

"And passes..what about passes gurrl?"

"Why do you have to be so nosey?"

"Uh huuh, passes...did he get any passes?"

"If my memory can recall correctly I think I included backstage passes for his party."

"See that's my gurrl, you never know when the Cold War is goin to resurrect itself and just remember sista the U.K. and the U.S. have a signed treaty honey."

"You know Nef, maybe next time we need to cool it on how many margaritas graces your lips."

"Honey, I'm comin into the hotel bar right now for my nightcap before I get evicted and sent back to East London."

I left her in the hotel bar as another party started around her, giving her a big kiss on the check and saying, "You know I love you Nef. When will I see you tomorrow?"

"Santa gurrl I have my Access All Area that you gave me in Rome. I'll be there to celebrate early."
"Just remember Nef some of us have to work."

"Uh huuh, you work it gurrl."


---
Monday, July 09, 2007 - 7:31 PM
Dublin

Talk about freezing; thank heaven for glamorous warm summer trenchcoats. It's been a long day of traveling when really flying from Manchester to Dublin should happen in the blink of an eye, maybe if you are a sleeping giant. Half of the party has lost their luggage; one really nice guy got the bag filled with his dirty clothes. Most of the girls have lost at least one bag; yes even I dont have all my luggage with me. But you see and I so don't mean to gloat, I learned a little trick when I worked in the fashion industry years ago, I never have one bag filled with only casual clothes. You see you must spread out the wealth across your bags ladies. So very simply, a typical bag would contain: something to sleep in whether that's on your own or not, something to walk around in and always, always, always two complete and I do mean complete outfits for being "seen in". Naturally those handy little pharmaceuticals must be spread throughout the bags as well. I cannot believe that as I am writing this and I have the door open to my lovely balcony overlooking a courtyard on a rainy evening here in Dublin, what do you think is playing in the room next to me at volume 11...the scissor sisters? That would be no. Is it Motown? That would be a definite no. Did you guess it??? "The Phantom of the Opera is there in my mind," this would be the cast recording people. So you can imagine its getting trickier by the second for me to concentrate on glamour and how to survive all these little terrorists messing up for everybody what should be an easy little flight with all their bother and here I have this lady warbling at the top of her lungs and it makes me wonder what's going on in there next door, maybe they've lost their luggage too, but obviously they got the bag that contained that treasured Phantom of the Opera disc that they must carry with them everywhere they go. I've just hung up the phone, looks like I'll be lending Lady T some of my press clothes so she can get to the gig tomorrow as they've misplaced her bags as well. Dont worry; she'll be just fine. To quote the CD blaring from the other room on the other side of me from Jesus Christ Superstar "Everything's all right yes, everything's fine", figures they will have put Isabel on the floor with the Brazilian footballers and here I am with the Broadway bunch.

Tata for now
Santa


---
Monday, July 23, 2007 - 1:26 PM
Athens

Lovers lock bodies one to the other. Besides fountains, under ruins, and just about everywhere. Athens "stirs a languid passion" to quote Clyde. She has been smiling more lately. Personally I think it's because she's far away from where anyone can reach her and when I say anyone I specifically mean her ex. That guy doesn't let up easily and may I add he's professional about it. You might have heard Pip reporting in on "the facts as we know them" to quote her. The facts would be that he has become a successful painter, excuse me visual artist who has made a series of Clyde portraits that are getting a good amount of attention in the art circles. Has she noticed? Well of course, obviously and that was his point. Not a stupid man. Calculated? Clearly. Stupid? By no means. It's the ultimate seduction, being stalked by your own image. But your image in ways that make photographs seem insignificant next to such visual expertise. Nobody ever said he wasn't good at what he did. He can find ways to reach her without even needing to know her new cell number that only a few of us have. The problem with all of this is that even though it is the pen-ultimate chase of a man pursuing a woman he desires, however you look at it, it's still a glamorous stalking of a prey. Look I never said he was an evil guy. I would use the word controlling. There's always some control between lovers going back and forth but if the control only stays with one then the other ultimately ends up on a leash and that's what happened to Clyde. I never said I minded being on a leash, however, it would have to be in good fun and for a finite amount of time, no as a lifestyle choice, that is unacceptable. The question we've all been asking, yes even Isabel, is if she were to open herself up again to Lucien would their relationship revert back to the controlling master and pet muse dynamic or has he changed? Is he willing to be in a relationship with an equal? Is she ready to demand that? Is she strong enough? From Athens to Tel Aviv, I've noticed her relaxing getting some respite from all that her relationship is bringing up for her. The dance of lovers is always complicated and not all lovers are dancing to the same song at the same time and therein lies the trials of passion and the timing of passion. If he had been like this a year ago, they might be together now but I'm not so sure anymore. She is seeing the world as a woman in her own right not as Lucien's muse or lover or wife, just as herself. Possession of a lover. Why do we need to posses someone that we say we love? I've been invited to St. Petersburg over the break. I plan on spending time in London with Nef first. We have a project to work on next week. Anyway right now friends come first before lovers, I'm just being honest that's where I am in my life right now.


---
Monday, September 10, 2007 - 12:47 PM
Santa in Melbourne

Where do I begin? I came back to my room in the hotel here in Melbourne, Australia. I closed the door and quite frankly I had to pour myself a drink. This was the first time I had seen any of the other girls since we parted company in Tel Aviv. Tel Aviv now seems a lifetime ago. It's not really right for me to gossip. I'm exercising every ounce of discipline I have in my body not to blab. My hunch is that each girl will want to reveal their pleasures and their disappointments in their own time. As for me, well I'm single again. It's a long story. After the tour ended, I went back and spent some time in London. Pip had warned me that if I went to St. Petersburg I might be exposed to certain truths that could possibly have an effect on how I felt about my relationship with the Russian. I refused to listen to her one bit and for a while there I guess you could say we had a falling out. I basically told her to stop meddling and stirring up trouble where there wasn't any and she exploded and said I was an ungrateful friend and to go fuck myself. If I'm honest about where I was at the time, I really and truly believed that she was so destroyed by her father's death that she still couldn't accept that he was dead and couldn't possibly want anybody else's happiness. So I went. Yes of course the romance was as good as it had been before in some ways, but The Russian was asking me, no- interrogating me, gently interrogating me. But he was definitely fishing for answers about Pip's whereabouts, where she had been everyday on tour, her relationship with the British spook and of course questions about her dad. Finally I confronted him and of all things, I laughed.

I looked him straight in the eye and said, "So you've been shagging my brains out just to get information on Pip and her dad?"

He responded, "Jesus, Santa, it isn't like that but..."

And I said, "but what?"

"But it's my job," he said.

There was silence and then he said something like, "I know I owe you an explanation but I can't really talk about what it is I do."

I picked up my bag and said, "Don't be such a fucking idiot. I know what you do. That's obvious right now. You're one of those guys that works for those kinds of people."

He said, "But I'm crazy about you."

And I looked at him, I really looked at him and as sexy, dark, and beautiful as a Russian man can be, I was over him in that moment.

I didn't even look back at him when I said, "There's no way that I could have an orgasm with a deceitful man. Proshyai."


---
Monday, September 17, 2007 - 2:26 PM
Spying in Sydney

She hugged me quickly strutting off stage and onto a waiting boat right by the Opera House. There was a man running the boat and then another man made his way from out of the hull. Clyde had binoculars, which got thrown my way after a tinkle of laughter. You know, Clyde is actually laughing...my, my what a few weeks can do. I peered through and I did not recognize either face.

"Clyde, have you seen these guys before?"

"Um, him oh yes. The one coming up from the hull, the one in black handing Pip the cocktail...He was at the Sydney show in the balcony, I spotted him."

"How'd you do that? I didn't spot him."

"Well, no offense Santa but I was observing the audience while you were checking out the possibilities."

"Yes, well then why wouldn't I have seen him? He's attractive enough."

"Because, and Pip has confirmed this, when these guys want to meld into their surroundings they switch off."

"Switch off what? The Call of the Wild Thingy button?"

"Well, more like the Notice Me button. But you see I knew that Pip was meeting someone after her show so I was scanning the room looking for a specific type. Energetically, that is."

I couldn't resist, "So then when are you going to energetically scan the continent for your Buddy right here?"

"That is completely unnecessary Santa and you know it."

"Okay, all right. Yes I know. But I'm almost curious now on who you would come up with."

She turned all irises on me and I swear Clyde has irises nestled in her hair, always gazing at a 350-degree angle, from all sides at all time.

She lit up, "Is that a challenge?"


---
Friday, September 28, 2007 - 1:17 PM
Peter

Sooooooo, of all the places that this girl has enjoyed a drink, laying on a bed at the Argyle sipping champagne and enjoying the conversation immensely, not only with my friend but with the imported Peter...quite a fetching bartender and a lot more pleasant than the other Peter at a fun little spot called Lenon's. The tasting plate at the Opera House, let's put it this way, go for the vegetarian one unless you want to be eating Peter Cottontail. Obviously, I had enough Peter for one evening. Then there was the lady that got out of paying her bill by first dropping her supposed credit card on the floor, then screaming at her boyfriend so that the whole populous of Wildfire was completely captivated. Consequently not a soul missed this screaming woman as she pulled up her skirt and displayed her bare ass to the room. Then she proceeded to run out bare-bottomed into Sydney Harbor. We've decided that if we had another month we still couldn't have partied our way through Sydney. People like to party down. I wonder how much escorts are making here in Sydney. It's something we've discussed amongst us. If you're handsome, 25, and bi then business is booming. This is just my observation. I'm embarrassed to say that I've been out so many times and I can't remember half of it. But what that does tell you is that if you're hanging out with the right group of friends there are so many places to choose from that if you get kicked out of one bar you will be welcomed in another. I'm not quite sure if people come all the way down here convincing themselves that they are so far away from their actual life that whatever they do just doesn't count because after all it's happening the day before your actual life is actually happening. So I have seen with my own eyes, people convince themselves that so-and-so is unreachable and living yesterday and I'm here living tomorrow and we could all be dead tomorrow. Maybe that's why there's so much merrymaking going on and so much experimentation. I've been fascinated observing people's evening behavior versus their behavior in the clear light of day. Depending on where you are in your life, this might just be what the doctor ordered.


---
Thursday, October 18, 2007 - 7:23 PM
Boston

So I must say I had heard the stories of the backstage, or should I say lack-of-backstage-amenity- world at the Orphlem, whoops, The Orpheum. I was really here as a more supportive kind of role because by the time this blog goes up you will know that I didn't play the 1st show in Boston. But I thought I could help cheer things up a bit. When I walked into the venue, I was shown where production was, which if you can believe it was in the ladies bathroom because there was no other place for production. Where most productions set up was where the quick-change tiny little galaxy had to be set up. So poor production was relegated to the ladies loo. I heard all the stories; the infamous one from the crew from several years ago when a rat and I mean a real live rat fell from the ceiling into catering. I always wanted to ask them did the rat fall into the cheese plate, but people still aren't laughing about it so I didn't feel it was appropriate. I've been planning my Halloween costume. I asked Pip what she was gonna be for Halloween and she told me she didn't believe in Halloween and to go fuck myself. The word is everybody is gonna be dressing up on the crew and the band as well for Halloween and I figured I should get into the spirit. Clyde is gonna do it with me. Last night we were in a bar where there was a bottle of champagne that was being sold for $14,000 so one of the girls that was in the party bucked up the courage to order it just to see what would happen. They went into detail about how they are keeping this bottle because it is part of history. The story is a little murky for me but would be after my dirty martini world, which was excellent by the way; they make a very good dirty martini here in Boston. There was this shipwreck in 1916, which happened off the coast of Finland. When the wreck was lifted to the surface in 1998, "the Burgundy wine did not live up to 82 years of immersion, but the 21 barrels of Cognac could be salvaged and the bottles of Heidsieck & Co Monopole Gout Americain 1907 fortunately survived, remaining in excellent condition and now revealing a fabulous taste." Yea, I don't know, I'll have another dirty martini.


---
t o r i p h o r i a
tori amos digital archive
yessaid.com