songs | interviews | photos | tours | boots | press releases | timeline | stories

---
The Washington Post (US)
Friday, July 20, 1984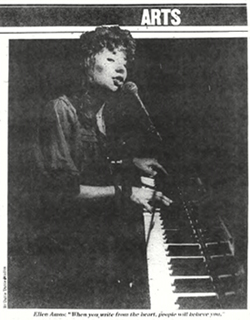 Tunes by Torchlight

by Michael Welzenbach

Sometimes I don't know how to reach you --
You've burned this bridge once before.
You fire your shells while the children
Gather them upon the shore.
from "The River Runs Deep" Copyright © 1984
by Ellen Amos

SHE'S A torch singer.

Sitting at the piano under the smoky red lights, Ellen Amos appears so slight, so frail, that when she starts singing, her voice takes you completely by surprise. So does her playing. Her voice is big and rich or sultry and sweet, as she wills it. Her accompaniment is effortless.

Whether soaring through one of her own songs, rendering a popular request in her fresh and unmistakable style, or even, if the mood is right, coaxing some Beethoven from the ivories, the 20-year-old Amos captivates an audience as few performers can.

"I love singing," she says. "It's funny, but I was singing before I could talk. I'd sing things that I wanted to say. My father had me in the church choir when I was 4. And I was playing. My mother would have Julie Andrews on the stereo, and my brother would have on the Rolling Stones, and I would imitate everything.

"When I was 5, I was such a good pianist . . . but they laughed when I sang. I didn't know how I sounded singing -- of course, when you're 5 you don't know if you'll turn out to be a good singer. But when I turned 11 nobody was laughing anymore. I came into my own."

And in a big way. Entering the Peabody Conservatory at age 5, Amos studied piano and music theory for the next six years. At 11 she began private studies with Charlotte Dixon, who "believed in me, and said she could make something happen." At 13 Amos was playing for tips at Mr. Henry's and within weeks landed her first paying job, playing at Mr. Smith's piano bar ("because I was so young, my father had to sit in the audience and keep an eye on me").

Offstage, Amos is candid and articulate, talking of music with an urgency borne of understanding and pure love. Popping a fresh piece of sugarless gum into her mouth ("It keeps the saliva going -- makes it easier to sing"), she reflects on her years at the conservatory.

"I've been trained by the best, and I have to respect that training. But I don't think they [Peabody] were used to dealing with a 5-year-old prodigy. I was one of the youngest students in the school. They thought they had to be real gentle. They were so light on me. Kids know and can handle more than people think they can -- especially if they're challenged. And the etudes weren't a challenge. Finally I got Beethoven -- my Top 40 of classical music -- and by then I wanted the turbulence. But you just don't have the maturity to play Beethoven at 7.

"The problem was -- you see, I had this ear. I could hear anything and play it back to you verbatim. And I would improvise on things, and they don't like that. They said, 'No, no, no! You have to read.' It was a very good, old school. It wasn't like, 'Okay, kids, let's invent on Bach here.'

"Now I have the freedom to put my own material in. I like to write, or expand on what somebody else did. But I want to write my own music, sing my own music, play it and perform it. There's a difference between being an artist and an entertainer. I'm a composer more than I am the pianist-performer."

For the last few years Amos has been writing songs and recording them and approaching record companies. She thinks she can write and perform as well as any Cyndi Lauper or Pat Benatar, and anyone who has heard her perform well believes it. Amos is ambitious, yet the ambition seems directed not at money or fame, but at access.

"So much of pop music is trendy, but there are good things in pop music. When you write from the heart, people will believe you. I don't put words to music so that little Suzy Somebody down in Waldorf can go, 'Yeah, yeah, yeah.' I write words so that Suzy can feel something.

"When people listen to pop music, they want to see a face behind it. I change when I'm performing. I project with my image what I wish I could be sometimes. For most of my life the keyboard was everything -- I wasn't a woman, I was a musician. But my performance-self is a woman."

So, night after night at the Marbury House lounge on M Street in Georgetown, Ellen Amos -- woman, pianist and consummate entertainer -- plays her songs for as many people as will listen. And after one song, most stay to listen rather longer than they had intended.

"It's the tunes that are the life blood," she says. "If you've got a great tune, you've got everything."


---
t o r i p h o r i a
tori amos digital archive
yessaid.com