songs | interviews | photos | tours | boots | press releases | timeline | stories

---
The Bergen Record (US)
April 24, 1992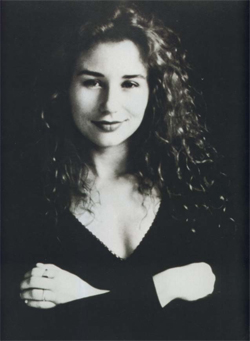 The preacher's daughter

By Barbara Jaeger
Record Music Critic

Tori Amos made some unusual excursions with her father the preacher.

"When I was about 13, my dad would come with me, and he'd help convince bar and hotel owners (in Washington, D.C. and Baltimore) that they should give me a chance," says the singer-songwriter, whose debut solo album, "Little Earthquakes," was recently released on Atlantic Records. "And so many of them did.

"I think sometimes I got the job because they didn't know what to make of this man with his cleric's collar."

One can imagine their bewilderment. After all, a Methodist preacher is rarely found in smoke-filled bars and candlelit hotel lounges, soliciting work for his teenage daughter.

"My upbringing was pretty strict," the 28-year-old former child prodigy recalls in a recent telephone conversation. "Both my parents are real Victorians," she adds with a soft laugh. "But back then my father saw that a separation was starting to happen in our relationship. Tensions were really starting to flare up. And he knew that you either support your kid or you lose your kid.

"So, he just said to me one day, 'How can I help you achieve what you want to do?'"

And those words, Amos says, were just the ones she needed to hear at that time.

"Until that moment, I was so confused. I was a disappointment to myself, and I felt I was a disappointment to my parents and the people who were trying to help me.

"It's really hard for a child -- especially one who is into pleasing people and who has gotten a lot of attention -- to have something taken away. You really start to think you don't have it. I really thought my life was over."

That latter comment sounds a bit melodramatic -- even coming from the often-dramatic Amos. But when she talks about her formative years, it's easy to understand why she felt this way.

It was almost pre-ordained that Amos would choose a musical career, she says. Her earliest memories include selecting albums from her mother's extensive record collection and listening to Broadway show albums and performers such as Fats Waller and Nat King Cole. From her older brother, Amos developed a taste for the music of Jimi Hendrix. "And I'd be lying if I said that church music wasn't a big part of my life," says the former choir member.

By age 4, Amos was playing piano and writing songs. A year later, she won a scholarship to the Peabody Conservatory in Baltimore. The goal was a career as a concert pianist.

But the regimentation proved deadly for Amos. She came to dread the weekly lessons where she was forced to spend most of her time reading music. All she wanted to do, she says, was "play the cool things I picked up by ear." At 11, Amos says, she was kicked out of the conservatory.

Two years later, with her father as chaperone, Amos began making the rounds of clubs and lounges, where she played a mix of standards and originals.

"I progressed more in two years than I had in the entire six years at Peabody," she says. "Having free rein to experiment, I was excited and motivated. And the audiences appreciated what I was doing."

Amos moved to Los Angeles in her late teens. By day she shopped around for a recording deal; by night she worked the hotel-lounge circuit.

"So many record companies said I had potential," she says. "But no one seemed willing to take a chance on me. I began to think that maybe potential just wasn't enough. And a lot of the old doubts began to surface again."

When she finally got her first chance to make an album, she says, she misguidedly and unsuccessfully used it to garner a hard-rock following. But Amos is philosophical about it: Were it not for the failure of 1988's "Y Can't Tori Read," she might not have recorded "Little Earthquakes."

"I suddenly realized that for most of my life I was trying to please the people around me. I needed to get away, discover who I was -- not just the musician, but the entire girl. And I needed to find out what it was that I wanted to do."

She moved to London and "just closed my door on the rest of the world." On a rented piano, she began to compose the songs of repression and liberation -- drawn, in many instances, from her own experiences -- that fill "Little Earthquakes."

"Writing those songs was no walk in the park," says Amos, whose singing style is similar to Kate Bush's. "I had to open hundreds and hundreds of doors that I had kept locked for years. But tearing myself asunder helped me grow up.

"I learned the key to the kingdom is self-acceptance."

* * *

Amos performs two shows 8 and 11 p.m., Monday at The Bottom Line, 15 W. Fourth St., Manhattan.

Tickets are $15 and may be reserved by calling 1-(212) 228-6300. Chris Glenn opens the performances.


---
t o r i p h o r i a
tori amos digital archive
yessaid.com