songs | interviews | photos | tours | boots | press releases | timeline | stories

---
Music Week (UK)
December 16, 1995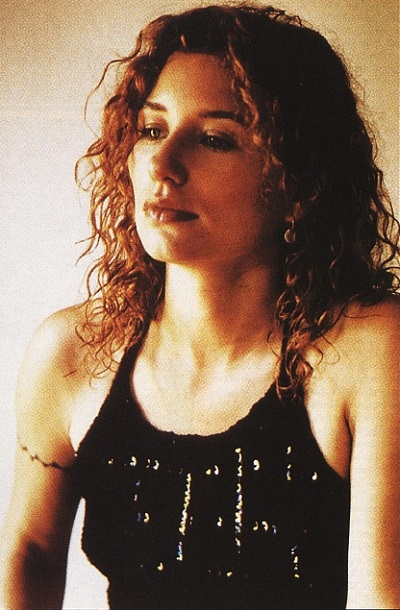 TORI AMOS
RETURNING IN SOUL BARING MOOD

by Neville Farmer

Tori Amos has never been afraid to bare her soul in songs or interviews but her third UK album release is the product of the sort of candour which most artists would consider to be very unwise.

Boys for Pele is the story of Amos's "search for my own fire" following the break-up of an eight-year relationship with producer Eric Rosse, during which she blossomed from being the LA rock singer fronting Y Kant Tori Read to becoming one of the most celebrated solo singer/songwriters to appear for a decade.

"It's a story of this woman who happens to be redhead and the descent on her own to find fragments of herself. Each song is a piece of herself which she has to find to stand on her own without what she thought was her other half," she says.

"Part of that is emotional and part of that is cheeky and part of that is sadness and then there is the freedom. So it's quite a journey. It's a busy little book, this one."

So it is. Each of the 18 tracks is connected to the next - some are just one minute transitions into the next chapter.

All are unmistakably Tori Amos compositions, but all show a substantial development from Under the Pink ("an impressionist work like a painting") or her first real album, Little Earthquakes.

In many ways, Boys for Pele is a huge leap from her previous work. "Compositionally, I wanted to stretch the concept of a chorus so it became a formulated chorus... I feel in a sense there's a real freedom of form but there are recurring themes."

The most immediately obvious change lies in the arrangements. "I wasn't interested in anything that didn't challenge me and as I started finding different parts of myself, I brought in different instruments to express that," she says.

The harpsichord features strongly, used and abused in ways that characterise Amos' classically-trained intimacy with her instrument.

She also uses a great deal of brass, including the Black Dyke Mills Band. "They brought a lot to the record on many levels," she says, agreeing that the delicacy of the arrangements of brass instruments played by strong men was a concept that appealed to her. Everything with Amos has a deeper meaning.

Holed up in a church in County Wicklow, Ireland, Tori and her touring crew and musicians recorded Boys for Pele together. It was the first time she had produced an album alone and she clearly relished the experience.

She experimented with new rhythmic concepts with drummer Manu Katche and drum programmer Alan Friedman. And she found new depths to her singing, opening up her throat and belting out a primal cry far more emotional than her shrill falsetto or sensual moaning.

East West managing director Max Hole was also on hand to help out in an advisory A&R role. He says the fact that the album was such a personal and emotional exorcism for Amos did not make it a difficult record to make.

"It actually made it easier as she was very focused on what she was doing. Besides, she is not an artist that you say 'Actually, can you do a song like this or change this'. She knows what she wants and I am her sounding board," he says.

A feeling of catharsis pervades the album. Says Amos, "The main thing is, it's a metaphorical work in symbols. But it's all there so people can take it and run with it. But I truly believe you can taste and smell the feeling, the desire, the passion, the hurt, where we are going," she says.

It is this feeling that attracts her huge audience. Even if they don't know her personal story, they do relate to the feeling.

"I think on the Under the Pink tour I felt this total adoration and you sit there and go, 'they have no idea that I have to find some tools real quick because my whole foundation is crumbling.'

"You see, Eric was my soulmate. I grew with Eric and we became one. Now, where do you go when your other half has gone? Well, there is a place I go to and I'm a good one for a bottle of wine. So, I went and had a cup of tea with Lucifer. Actually, it worked quite well. I had to descend."

She argues that she is merely metaphorical in her lyrics, not cryptic at all. She acts through a conversation, gets down on her knees, gestures dramatically, shouts, whimpers, laughs. If anyone wanted to tear her apart in print, she offers no defence whatsoever.

But that role is the one that works for Amos the artist. She is a total performer and she is more herself on the stage than at home. It was the musician side that got her through.

Amos's success has not followed any traditional path, indeed many will have expected her to disappear from the racks after initial "novelty value" success. But it's the passion and sincerity of her performance that has struck a chord.

"She is off-the-wall and leftfield but that's what people like about her," says Hole. "That's why she's sold albums without having huge hit singles."

But when you look at the long-term success of other mavericks, such as Kate Bush and Neil Young, there's every reason to believe that Tori Amos too will be around for many years to

TRACK BY TRACK

TORI AMOS: Boys for Pele highlights:

Beauty Queen/Horses 6.07
"They're at the beginning of the journey. I had to get to this place in my subconscious, so the horses from Winter said 'Okay, you don't have new boots anymore.' So we went after the demons."

Blood Roses 3.56
"The boy/girl dynamic is not uncomplicated. When you're aiming to please and you want it to work you can turn yourself into anything."

Father Lucifer 3.43
"We love to look at the dark from the distance. It was refusing to buy into this concept of 'don't turn over that stone, just move on'."

Professional Widow 4.31
"I'm fascinated by people that go to S&M parties. It's much easier to look at somebody having stuff done to them but it's a little more difficult when it's applied to your daily life."

Caught a Lite Sneeze 4.24
"The first single from the album. "I'm hoping that the work is multi-levelled. Hopefully, you smell and feel what it's like to be the vampire."

Marianne 4.07
"Marianne died when I was 14. They say she killed herself. She ended up on this record because if I could have been anybody it would have been Marianne."

Doughnut Song 4.19
"Of course you never got fat eating the doughnut hole because all you got was air. But you didn't get all the sticky, gooey stuff did you? So play it safe."

Talula 4.08
"Talula is a grown-up nursery rhyme and it's about finding joy when you're losing everything."

Not the Red Baron 3:49
"It's really important that if you're interested in this record on any level, you let yourself dive off emotionally."

In the Springtime of His Voodoo 5.32
"He was going to show me spring. 'Going to' are the operative words."

Putting the Damage On 5.08
"I would like to believe that I attained a level of grace at this moment. It's an acknowledgement to everything."

Twinkle 3,12
"It's self-explanatory."


---
t o r i p h o r i a
tori amos digital archive
yessaid.com