songs | interviews | photos | tours | boots | press releases | timeline | stories

---
News & Record (US)
Greensboro, NC, newspaper: Weekend section
Friday, August 16, 1996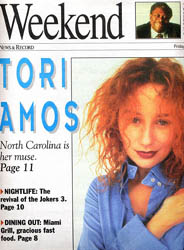 TORI AMOS

North Carolina is her muse

North Carolina, where Tori Amos was born, is one of the most spiritual and lyrical places on Earth for this singer

By Ethan Pines
Staff Writer

North Carolina holds more than tour stops for Tori Amos. It holds more than the singer's birthplace. It holds more than her Native American and Scottish-Irish ancestry.

In her words, North Carolina holds a spiritual journey. "When I go there, I speak to what's in the soil," she says from Atlanta, a stop on the tour that will bring her to Greensboro's War Memorial Auditorium Thursday. "And you don't have to dig very deep to find the richness there."

What she finds here, she says, influences her music.

"I hear possibilities of songs I haven't written yet. North Carolina's very much a doorway for me to go to pockets in my being that I might not have accessed yet - maybe because it's too shocking for me, or I just wasn't picking up on it.

"When I'm in North Carolina, I seem to be able to plug in, and things come alive for me." She pauses, breathes into the phone, thinks silently. "Almost like it has a certain ... if you will, computer screen where things can be brought up that can't be brought up in other places.

"I don't even have to be there to just do it. I take walks and I remember the wildflowers and the balmy heat.

"I do think that heat is in my work."

Many would agree. The songs on Amos's three solo albums - Atlantic Records released her new Boys for Pele in January - can be balmy as a North Carolina summer, fiery as her bright red hair. They range from fully orchestrated movements to piano ballads to an a cappella account of being attacked and nearly raped by an acquaintance at 22. All have an in-your-face intensity that plays the listener's emotions like Amos plays her piano's keys.

She began playing the piano at 2 1/2 in Baltimore. She, her parents, her brother and her sister moved there a year and a half earlier from Newton, where she was born Myra Ellen Amos in August 1963. Her mother, a part-Cherokee woman born in Newton, disliked Baltimore. Amos and her mother spent every summer, Easter and Christmas in Newton.

"You could spit from one end to the other," Amos says.

Her father was a preacher in the Baltimore-Washington conference of - she's not sure - the Disciples of Christ. Her paternal grandparents, Scottish and Irish, were preachers who lived deep in the Appalachian mountains near the North Carolina-Virginia border.

"I'm related to the people in Deliverance," she says, chuckling sardonically. "Not Burt Reynolds - the other side."

At 5, she received a scholarship to attend the Peabody Conservatory in Baltimore. The youngest student to attend the prestigious music academy, she studied there until 11, when the academy expelled her for playing her own pop songs at an examination.

At 13, she began playing piano and singing in clubs around Washington. At 21, she moved to Los Angeles and formed Y Kant Tori Read, a hard-rock band whose first album flopped in 1988.

Humiliated by derisive reviews, Amos returned to the piano. In Maryland and then in London over the next three years, she developed the piano-based, emotional style that is her own and wrote most of the songs on Little Earthquakes, her first solo album.

More than a new sound for Amos, Little Earthquakes was a catharsis.

It included "Me and a Gun," an a cappella account of something she had repressed for years: the night she drove a man home from a hotel-lounge show in Los Angeles, the night he sexually assaulted and nearly raped her before she escaped. She composed the song in a single evening, between watching the rape scene in Thelma & Louise and performing in a London club.

"There were times when I couldn't really talk about it," she told The Washington Post in 1994. "It was humiliating ... (to be) sexually dysfunctional when you were a passionate woman onstage."

"Me and a Gun" earned her the D.C. Rape Crisis Center's 1994 Visionary Award. She also helped establish R.A.I.N.N., the Rape, Abuse & Incest National Network, in 1994.

Little Earthquakes came out in 1992, went gold in England and then the United States, and began the concert tours that have sent her around the country every other year since.

Now 32, she has homes in London and New Mexico. Will she ever live in North Carolina again?

"No no no no no no. If I want to I can visit, but, um, I can't live with ghosts every day of my life."

She only returns to North Carolina when touring. That is enough.

"It's like being on opium all the time. That kind of feeling, that hallucinogenic feeling." Her voice, the same voice that jumps from whispers to multioctave wallops onstage, is gentle and breathy.

"I hallucinate when I go there. And that's a wonderful thing, but I can't live in a hallucinogenic state." She laughs at the double meaning of state. "You should put that in the article."

Though she visits North Carolina when performing, it is not the place she knew as a child.

"Um ...," she says. She exhales a heavy sigh. "I think the bards are gone - that tradition that I felt in my aunts and uncles. You'd sit on the porch and listen to the elders tell stories. Being part-Cherokee and part-Irish, you gotta figure there were a lot of bards around. ...

"I remember going around to people's different houses and porches, and everyone had beans cooking. They'd be talking and talking about somebody who shot somebody. They could be making most of it up, but it would be a three-hour story."

The oral tradition, however, means more than childhood memories to Amos: "That's how mythology keeps going, that's how we understand why we're made up of what we're made up of."

Amos herself may be carrying on the oral tradition in her songs.

"That's what I do," she says. It is so obvious she laughs. "Everything's oral."

In addition to her lyricism, her spirituality has its roots in North Carolina.

"As a little girl, I really feel like I touched the other world. In Ireland, they have terms for it - the other world. They believe there is an alternate world than this one. It's part of the Celtic belief, the mythology, that there are beings existing there. They call them the Sidhe." She checks the spelling in a book. She exhales audibly into the phone. "In Ireland, they are very much in acknowledgment of the Sidhe.

"But it's just a bit of an eye-roll," (it does make her roll her eyes, she says) "the debasement of the Sidhe into Tinkerbell. It's been diluted to that."

Though she says spirituality has become commercial, though the South has become more like the North, Amos retains her faith.

"I believe in a lot of things," she says. "I believe in queens, and I believe in transvestites. I believe in anything and everything."

WANT TO GO?
When: 8 p.m. Thursday
Where: War Memorial Auditorium
Tickets: $22.50 at the Greensboro Coliseum box office or by phone: (800) 692-8499.


---
t o r i p h o r i a
tori amos digital archive
yessaid.com