songs | interviews | photos | tours | boots | press releases | timeline | stories

---
People (US)
June 22, 1998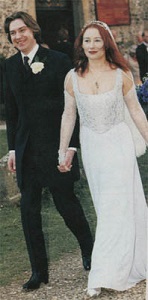 Weddings of the Year

Tori Amos & Mark Hawley
February 22, 1998

The arduous climb to St. Lawrence's, a 13th-century Norman church atop a massive hill in the tiny English village of West Wycombe, didn't deter the locals when North Carolina-born Tori Amos, 34, wed British sound engineer Mark Hawley, 34. "No one really knew who she was, because it's more of an older population here," says villager Michelle Holborne. "But as soon as they heard she was famous, the said, 'Oh, well, we'll just go up and have a nose around.'" What they found was a scene ripped from the pages of a medieval fantasy. The singer wore a floor-length silver cape over her ice-blue gown to march to the church, chere clusters of candles burned in every window and uilleann pipes played an Irish folk song. "I believe in the elementals," Amos explained to Q magazine. "I figured if I had [the wedding] where there were trees and water, then maybe the fairies would show up."

After the Church of England service, torchbearers costued as monks led the 150 guests outside for a toast. While no fairies were sighted, Amos did connect with a local 8-year-old, Elizabeth Cameron. "She asked me and my friend if we were going to get married one day," recalls Cameron. "I said I didn't know, and she said, 'Well, make it a special day.'" Indeed.


---
t o r i p h o r i a
tori amos digital archive
yessaid.com