songs | interviews | photos | tours | boots | press releases | timeline | stories

---
USA Today (US)
Friday, October 1, 1999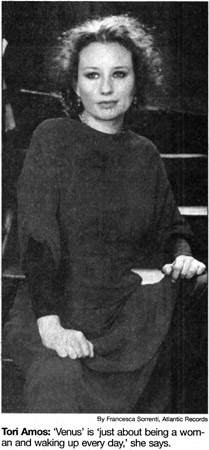 Tori Amos' personal sphere

Unique muse guides her musical journey 'To Venus and Back'

Elysa Gardner
Special for USA TODAY

Tori Amos never met a metaphor she didn't like. But in explaining her creative approach, the singer-songwriter shows a particular fondness for analogies involving booze.

"Sometimes people like to segregate artists -- they say, 'This is the serious artist, and this is the artist you can have a beer with,'" says Amos.

"I've always kind of cocked my head and said, 'Well, I'd love to have a bottle of wine with Sorrow, 'cause I know she's got dirty jokes.' And when it all goes wrong, Sorrow's good to have around."

Amos, 36, hung out with Sorrow while making her last album, 1998's From the Choirgirl Hotel. That project was informed by a miscarriage that Amos had suffered while touring to promote 1996's Boys for Pele, which was also inspired by personal trauma -- specifically, the breakup of a long-term relationship.

"There's beauty and wisdom in the darkness, and illumination," says Amos. "Pele and Choirgirl were very much about that for me. Then it was time that I put my high heels on and ran into Venus -- and had a good bottle of red wine."

Amos' new project, To Venus and Back, which enters the Billboard album chart at No. 12 next week, was initially conceived as a three-CD set, with two discs of live tracks recorded during her 1998 Plugged tour and one of B-sides. But Amos decided to edit her live material to fit one CD, and to make the other disc a collection of new material.

"I didn't know which B-sides to choose," Amos explains. "It was getting too random. It started to become neither fish nor flesh, and that's not good for a mermaid."

The new songs were affected by Amos' marriage last year to Mark Hawley, 35, her longtime sound engineer, who had fathered the child she miscarried.

"What I didn't get before I got married is that marriage can come with trust, and lust can come out of trust," says Amos. "Of course that affects the new record, because I see passion differently."

But Venus is also the result of a very personal journey. "After the Plugged tour, I sort of walked into a fierce calm. I didn't need to be someone's daughter, wife, or mother -- even though I am a daughter and a wife, and motherhood kind of just slipped through time and space for me. The record is just about being a woman and waking up every day.

"Most songs didn't come until the title was in place. My friend Natalie looked at me at one point and said, 'You know you would go to Venus, or that you've been there.' If you're gonna approach the Venus realm, seduction lives there, obsession lives there, trustworthy lust lives there, decadence lives there, control lives there."

To help capture these elements, Amos, a classically trained pianist, enlisted the musicians who supported her on the Plugged tour -- guitarist Steve Caton and drummer Matt Chamberlain, who also appeared on Choirgirl, and bassist Jon Evans -- and layered sound effects into the mix.

"Every musician has a concept of what a song should be, and the engineers have a concept, and I have a concept," says Amos. "But in the end, the song is her own muse. Sometimes I'll think, we've lost her soul. Everybody around me will be going, 'Well, I hear the soul.' And I'm like, 'No, you hear the booty.'"

Amos' quirky individualism has earned her a dedicated following. She has graced the covers of Rolling Stone and Spin, and has a sizable, loyal Internet fan base. Bliss, the first single from Venus, was the first song made available for download for a fee by a major label throughout the Internet retail community.

She has shown a rare ability to connect with fans by sharing intimate, often painful details of her life, including the fact that she is a rape survivor. That communication led her in 1994 to found RAINN (the Rape, Abuse and Incest National Network), which among other things administers a national sex-abuse hot line.

But although she has released four mostly well-received studio albums, Amos has yet to be embraced by one crucial outlet: top 40 radio.

"(Amos') songs are thought-provoking and great music, but they just don't sound very pop," explains John Ivey, program director of WXKS-FM, a top 40 station in Boston. "Pop songs are hooky -- everybody can sing along. (Amos' 1992 single) Silent All These Years was a big hit for us, but that's only one record."

"I don't know that you can condense that Tori thing down to one single," says Alan Light, editor-in-chief of Spin. "She's going for something that's fairly old-fashioned. They don't make a lot of rock stars like that any more, who are sort of weird fantasy creatures who clearly live in another universe and are grasping for some greater thing in their music."

Amos suspects that her image may be too controversial for some. "People don't really know where to put my questioning institutions of religion and going after things," says the singer, a minister's daughter who last year described Christianity in Time as "a religion without a penis."

"I don't know if radio (programmers) can listen to the songs without going, 'That heathen!' It's a tricky thing when you're writing lyrics that chase the dark. They don't get the humor, I think."

The singer tasted megastardom vicariously this summer, when she toured with Alanis Morissette. "You're like this meteorite," Amos observes of Morissette. "Everybody's singing your music and has an opinion about it. I sort of cruise in the underground. Sometimes you have to search to find what I'm doing."

Which suits Amos fine -- so long as she's not misunderstood. "I think some people feel like they have to have had some kind of traumatic experience to relate to my music," she muses. "I don't write like that. Sometimes I see the music more like a Dionysian frenzy. The concept that there are albums that make you happy and albums that make you suicidal -- I don't live in that kind of segregated world. That's why being in a fierce calm really holds a frequency for me right now."


---
t o r i p h o r i a
tori amos digital archive
yessaid.com