songs | interviews | photos | tours | boots | press releases | timeline | stories

---
InStyle (UK)
October 2002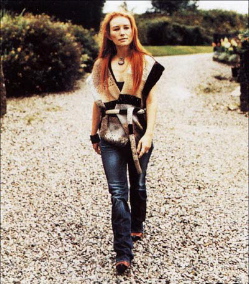 24 hours with
Tori Amos

8:15

It may be mid-winter, the ancient oaks in Tori Amos's garden may be lushly green, but it's so cold, it might as well be November. A drizzly Atlantic wind smacks into the remote Cornish farmhouse where the American singer-songwriter has lived since 1997. Any sensible pop star would pull the duvet over her head and stay in bed for the rest of the day, but Tori, whose songs are frequently as melancholy as the weather, is surprisingly perky as she pads to the kitchen for the first coffee of the day. Unlike many 10 million-selling stars (her hits include Cornflake Girl, Pretty Good Year and the number one single Professional Widow), Amos enjoys early mornings. Since the birth of her daughter, Natashya, two years ago, it's the only time she gets to herself. In the next hour, Natashya and Tori's English husband, Mark Hawley, will be up, and right now, waiting for the chrome cappuccino machine to do its thing, she's savouring the silence.


It's the start of a busy day. Even when she's home, in this tiny hamlet on the north coast of Cornwall, Tori doesn't have much time for chilling out – there are homes in Ireland and Florida for that – and today will be even more hectic than usual. Tomorrow she's off to America to debut her new album, Scarlet's Walk, for the US media, and there are dozens of things to do before she goes. Perched at the round wooden table in the cluttered dining room – which could be anybody's dining room, but for the waist-high wine fridge in the corner – she's in fantastically good nick for a 39-year-old working mum. Even make-up-less, in jeans and a cream pullover, her peach-coloured skin glows, and that's not hype. Growing up in North Carolina and Washington, DC, both noted for steamy summers, has left no evidence of sun damage.

With her light complexion, red curls (often straightened when she's working) and blue eyes, Amos looks Celtic, so perhaps she was destined to end up here, in England's southwestern corner. Although, she admits, relocating from LA to the remote Cornish countryside hasn't been plain sailing: "My husband picked this place. He holidayed around here as a kid and always liked it, so a few years ago, he and his parents came down and drove around looking for a place for us to live. I like it, but it can be a little stinky." She's referring to her dairy-farmer neighbours; the barn is no more than 30 yards from her front door, and there's a distinct whiff of cow in the air.

10:00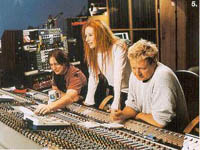 The house is starting to bustle. The quiet Mark, his long hair held back with one of Natashya's Snow White hair clips, slopes off to the 60-track recording studio they built in a barn across a gravel courtyard. He's Tori's sound engineer – they met when he worked on one of her tours – and needs to listen to final mixes of Scarlet's Walk, which was recorded right here. Natashya and her nanny, Hayley, play together in the living room, where the pristine beige corduroy sofa bespeaks the presence of a child who doesn't spill things.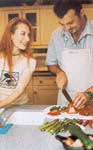 "She does have very good manners," laughs Tori. The singer is in the marble-and-chrome kitchen, conferring with live-in chef Duncan Pickford, an industrial-sized Northerner who used to work with Robbie Williams. Tori's culinary skills extend to sandwiches, so a chef is something of a necessity. There will be seven people for lunch today, "which is about average," and Duncan is suggesting a menu of chicken, roast beef, potato salad and home-baked bread. Yes, this is a pop star home with no vegetarians or picky eaters. "Oh yeah," Duncan chuckles, "she likes her meat. She even eats liver and onions. There's and excellent butcher in town. And she loves carbs, potatoes, sweet stuff. But she's conscious of her image and likes to stay slim, so I give her large portions of proteins and vegetables, and lots of fish, either from the local fishmongers or that I catch myself."

12:25

Tori's regular make-up artist and hairdresser arrive from London to gussy her up for promotional photos. As her brisk American PA, Chelsea, fields calls from her record company, Tori disappears upstairs to her cosy white bedroom to be worked on. Lesley Chilkes has been doing her make-up and Cim Mahony her hair for 10 years, and work as a practised team. Left to her own devises, Tori would wear no make-up except Lip Glaze by Stila ("Orange and Berry, and I must rave about the Cinnamon they've just brought out").

Recently, she hasn't even been moisturising, which earns her a telling-off from Lesley. Fishing around her dressing table, Tori produces a jar of cult moisturiser ReVive, given to her by the late make-up guru, Kevyn Aucoin and waves it at Lesley.

Today's look is simple: Nars foundation, Stila and Armani shadows in brownish-plum shades, Max Factor 2000 Calorie Mascara and, to sculpt her rounded face, a plum Nars blush. "She has an incredible face, and can wear any kind of look. We used to do a lot of red lipstick, but now we change the look every album," says Lesley.

Cim also keeps it simple. After straightening Tori's hair, he adds a few deep-red extensions, "for dramatic effect" and finishes with leave-in treatment Sebastian Potion 9 and Sebastian Laminates Hairspray. When Cim's not around, Amos uses the Clinique hair care range and the occasional henna rinse, and that's about it – she's not a big fan of complicated hair.

And her yen for simplicity extends to her wardrobe. She's what her stylist, Karen Binns, describes as "raw but glamorous – she wears her jeans, but when she gets a glamorous dress, she puts it ON." But she saves the glam for work; at home, it's Seven jeans, Fake London and Prada sweaters and T-shirts she picks up on tour. "I wear librarian stuff. But cute librarian," she laughs. Cute librarian found at Selfridges and Concrete in London and Fred Segal in LA.

14:30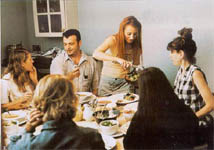 Everyone congregates in the dining room for a buffet lunch. Tori polishes off chicken and salad like a girl with an appetite. She chats to everyone, but is preoccupied. Scarlet's Walk was conceived after meeting a Native American woman, "who told me that the people who own the land [America] and the people who hold the land must come together for the sake of the land. I want to tell America's story on this album." Famously intense and hippyish, Amos finds that the process of making an album has been aided by living in Cornwall, whose wild cliffs, coastal paths and sea inspire her.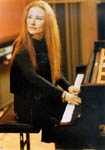 After lunch, it's straight into the spacious piano room, dominated by a gleaming black Bosendorfer grand piano, to rehearse for the upcoming media tour. This is Tori's favourite room. The rest of the 200-year-old house is cosy and pretty (all credit, she says, to her friend Audrey Carden of West London interior designers Carden Cunietti) and there's even a luscious, aubergine-coloured "snug" – complete with bookshelves and big Thirties leather armchairs – where she and Mark "light a fire and have a glass of Bordeaux." But the windowless piano room is the soul of the place, and as her small hands move lightly over the keys, Tori closes her eyes like a contented cat.

18:15

Video director Sanji, of Lauren Hill and Mary J Blige fame, calls to discuss the clip he's shooting for Tori's new single, A Sorta Fairytale. The video's main character is a leg that falls in love with an arm, and Sanji needs to discuss the leg's "personality". Really, these kind of things matter to Tori. Karen, who's steam-ironing a Jessica Ogden cardigan, explains, "The leg has to be underground and bohemian." Afterwards, Tori sighs.

Video worries? "No, I was just thinking about saying goodbye to Natashya tomorrow. I'll only be away a week, but going without her is the hardest thing." An hour later, Natashya and nanny return from a day out and Tori hurries from the studio, where she's been listening to album mixes, to scoop her daughter into her arms. Though utterly devoted to her daughter, Amos doesn't want more kids: "If I can raise one successfully I'll have done a good job."

"Bwuh," says Natashya.

21:00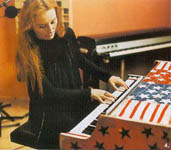 The baby is in bed and things are winding down. The drizzle has finally stopped, leaving a drowsy breeze that flutters the gauzy white dining-room curtains. A Diptyque Feu de Bois candle burns on a sideboard as Duncan dishes up sea bream, potatoes with chive butter and asparagus. "I'm tired today, but these are the golden years," Tori says, off-duty, relaxed, and back in this morning's jeans and pullover. The vague suggestion of a song fills the air, and she practically hums the end of her thought: "I'm old enough not to throw a fit when they don't get the Champagne right, but young enough not to need it to make my bones feel better."


---
t o r i p h o r i a
tori amos digital archive
yessaid.com