songs | interviews | photos | tours | boots | press releases | timeline | stories

---
The Independent Radar (UK)
April 26, 2014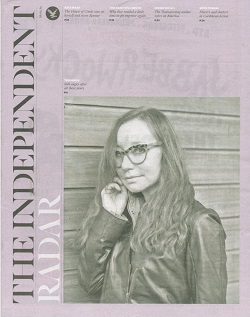 Tori Amos interview: The cornflake girl grows up disgracefully



Tori Amos is celebrating turning 50 with a new album and tour.
And she says we need to get used to older women singing rock songs

By Craig McLean
photos by Jim Wileman

Six or so miles from the Atlantic coast, beyond the reach of First Great Western and mobile phone signal, I find Tori Amos, sitting in a book-lined study featuring a shiny-black Bösendorfer grand piano. Dressed comfortably and floatily, and cradling a mug of tea, she's waiting to discuss her new album (her 14th), her last birthday (her 50th) and her next move (an 80-date, one-woman world tour). In the fields outside there are spring lambs bleating, daffodils blowing and a forlorn trampoline -- untouched since Amos's daughter Tash left home to board at London's Sylvia Young Stage School.

The American singer-songwriter says her only child, 13, is interested in film-making, acting and music, but is yet to declare herself a singer. That said, mother and daughter duet brilliantly on a moving new song, "Promise".

"Tash has a soul thing going on," Amos says proudly. "Her influences are very different than mine were," she adds, citing her daughter's typically teenage love of TV talent shows and YouTube stars ("comedians mostly"). "She listens to all kinds of things, but a lot of soul music -- proper soul music. I don't know where it comes from but it resonates with her. But a lot of British people are drawn to that. Then for some reason they're able to embody it. It gets under their skin."


Amos lives in Cornwall with her English husband of 16 years, Mark Hawley, a sound engineer. There's also a place in County Cork, and a beach-house in Florida. But this home and studio complex, built round old farm buildings and set in three acres, is where Amos has made her albums for "years". The freedom to come and go and record as she pleases, she says, is hugely liberating (and, of course, economical). And you can hear as much on that new album. Unrepentant Geraldines is Amos's first "straight" album in five years, following as it does 2009's seasonal album Midwinter Graces, 2011's classically-shaped Night of Hunters, and 2012's back-catalogue orchestral reimagining Gold Dust. But with the woman who shot to international fame with the beautiful but coruscating Little Earthquakes (1992), and hit singles like "Cornflake Girl", "straight" is relative.

Yes, there are pretty melodies and nape-tingling vocals aplenty on this album, named after a 19th-century Irish painting. But this artist, who's the midpoint in a continuum stretching back to Joni Mitchell and Kate Bush and forward to Florence Welch and Lorde was never going to write a conventionally commercial album. There are attacks on the IRS, HMRC and the NSA (on the purposefully jaunty "Giant's Rolling Pin"), inspirations drawn from Cézanne (on "16 Shades of Blue"), and meditations on age, both her daughter's ("you don't have to throw... being a kid away" she sings on "Rose Dover") and her own.

Certainly Amos's two-decade-plus musical career has been up and down. Her debut album Y Kant Tori Read was a disaster, an attempt to go down the "LA rock chick in pleather [synthetic leather]" route, "shopping at Retail Slut and making a record that bombed", she notes sardonically. Reorienting herself in favour of brutal, self-healing honestly with Little Earthquakes, on the a capella "Me and a Gun" she sang of the sexual assault she suffered as a teenager. But huge Nineties success -- Amos has sold over 12 million albums -- brought battles with her then-label.

"I was fighting for all kinds for reasons. They would be giving my tickets away for my sold-out shows to promote another artist's songs. And the thing is, I found how some people would use a strength of an artist, but use it not in the best interest of that artist. And where I come from, that's just bad manners."

Still, by dint of selling an awful lot of records, the uncompromising Amos was in a position to "fight my artistic corner. But did I make some enemies in this business?" she challenges. "Oh yeah, absolutely. But that's because the boys' club didn't get to come in and take over as my producer. I was not going to answer to some..." Amos shakes her head firmly. "Some man," she sneers, "that was twice my age was not going to be writing my songs. I wasn't gonna have it."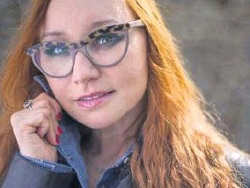 So Amos fought, and is fighting still. As "16 Shades of Blue" has it, "50 is the new black". Amos says she began considering the ramifications of that milestone birthday during the production last year of The Light Princess, the musical she co-wrote with London's National Theatre. The core creative team were women of a similar age, she says, "and they were talking about how it was really necessary to approach 50 from a vanguard point of view. You could choose to see how the entertainment industry is a very young industry." But, true to form, this deep-thinking and slightly cosmic, tale-spinning writer chose a more defiant, or contrary, stance.

As she rhetorically wonders: "Grandmothers singing rock songs? Yeah, there's Patti Smith! OK?" she laughs. "There's not a lot, is what I'm saying. We have to break that ceiling. And my generation now has to come along. There's Björk and Polly [Harvey] not that far behind me. It's time that we in the music industry, the writers, we have to be writing things that are relatable -- not just to kids but to people going through all kinds of things."

Conversely, does she see much "relatable" music being produced by younger female artists for younger music fans like her daughter?

"Well..." begins Amos with a smile, before embarking on a typically mazy but thoughtful answer. Broadly, she decries the decline of the singer-songwriter creating his/her own material. Specifically, she says Tash "laughed her head off" when mum began talking about how "some of these gals in their early twenties are sitting there singing the sentiments and pushing the fantasies of men living in Beverly Hills in their sixties, whose wives have had so much surgery... It's another generation of the decadence that's been going on for years and years."

OK, let's name names. Does Amos think Miley Cyrus and Rihanna are good role models for Tash and her peers?

"I think it's a different side of the business. And she knows that. You know, I have a lot of time for Kylie. She's been around a long time. She's not a songwriter. She does what she does well. There are entertainers, and that is a side of this business. And some of those women..." she begins. "I mean, if I could dance like Rihanna, Jesus Christ, maybe I would never have to pick up a pen again! I'd be twerking if I could move like Beyoncé, I will say that," Amos hoots.

But she's not about to stick the boot into the musical sisterhood -- "it's hard enough for women in the industry; we have to be supportive of each other". Accordingly, Amos insists she's "not put[ting] any of the others down".

"Your path is your path and some of them are being rewarded because they know how to work shock value. That is a talent in itself. I couldn't ever slide onto stage down a giant tongue, convincingly! I would fail! Now, nursing a pig for my Christmas card," she smiles, referring to the infamous photograph she used on the sleeve of her 1996 album Boys for Pele, "I can do that as a minister's daughter, not a problem."

All that said, Tori Amos concedes that she will be acting her age on her upcoming one-woman-and-her-pianos concerts.

"Tash and I have a couple of rules for the tour. One is, there is no need to expose too much flesh. 'What are we doing here mum? I don't care what other mothers are doing out there; they're not my mum.'"

Amos beams at the thought of her absent daughter, who chose to board at Sylvia Young's. "She said she didn't want to cringe. So, nothing too revealing. She said, 'you can be 50 and cool.'"

It seems the apple hasn't fallen far from the tree. If the middle-aged Amos had any collywobbles about putting herself out there, in the spotlight, for another album and another gruelling world tour, then her daughter told her to shape up or ship out.

"Tash said: 'Mum -- I'm 13, and if you don't grab this with both hands and ride this bull, then what's the message to me? There have to be women in the music business writing their own songs and putting out new albums -- even when they're 70. That needs to happen, mum!'"

Tori Amos shakes her head and laughs. "I said, 'bloody hell, 70?' And she said, 'yeah! Get those high heels and let's go!'"

The end of the line? Not, it seems, for a long while yet.

The album 'Unrepentant Geraldines' is released on 12 May. Tori Amos's tour starts in Cork on 5 May

[source]


---
t o r i p h o r i a
tori amos digital archive
yessaid.com