songs | interviews | photos | tours | boots | press releases | timeline | stories

---


press release | promo bio | discography | photos | tour | interviews

Tea with the Waitress

---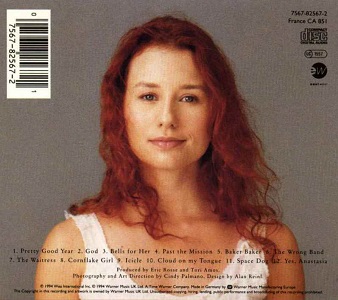 Under the Pink
1. Pretty Good Year

Piano and Vocal: Tori Amos
Strings arranged by John Philip Shenale
Conducted by Scott Smalley
Hanging out: George Porter, Jr. and Carlo Nuccio

2. God

Piano and Vocal: Tori Amos
Bass: George Porter, Jr.
Drums: Carlo Nuccio
Percussion: Paulinho Da Costa
Guitars: Steve Caton
Programming: Eric Rosse

3. Bells for Her

Prepared upright Piano and Vocal: Tori Amos
Prepared by John Philip Shenale and Eric Rosse

4. Past the Mission

Piano, Vocal, Vox Organ and stuff: Tori Amos
Guest Vocal: Trent Reznor
Bass: George Porter, Jr.
Drums: Carlo Nuccio
Percussion: Paulinho Da Costa
Guitars: Steve Caton

5. Baker Baker

Piano and Vocal: Tori Amos
Strings arranged by John Philip Shenale
Conducted by Scott Smalley

6. The Wrong Band

Piano and Vocal: Tori Amos
Hammond Organ and Arp String Ensemble: John Philip Shenale

7. The Waitress

Piano and Vocal: Tori Amos
Bass: George Porter, Jr.
Drums: Carlo Nuccio
Programming: Eric Rosse and Paul McKenna

8. Cornflake Girl

Piano and Vocal: Tori Amos
Guest Vocal: Merry Clayton
Bass: George Porter, Jr.
Drums: Carlo Nuccio
Percussion: Paulinho Da Costa
Guitars and Mandolin: Steve Caton
Programming: Eric Rosse

9. Icicle

Piano and Vocal: Tori Amos

10. Cloud On My Tongue

Piano and Vocal: Tori Amos
Strings and Chamberlain arranged by John Philip Shenale
Conducted by Scott Smalley

11. Space Dog

Piano and Vocal: Tori Amos
Bass: George Porter, Jr.
Drums: Carlo Nuccio
Guitars: Steve Caton
Something – Rantz and Zane

12. Yes, Anastasia

Piano and Vocal: Tori Amos
Strings arranged by John Philip Shenale
Conducted by Scott Smalley


---
Produced by Eric Rosse and Tori Amos
All Songs written by Tori Amos
Published by Sword and Stone (ASCAP)

Photography and Art Direction: Cindy Palmano, Design: Alan Reinl

Piano, vocals, strings and percussion recorded by John Beverly Jones, Bass and Drums recorded by Paul McKenna, Piano vocal on Bells for Her, guitars and other stuff recorded by Eric Rosse.

Pretty Good Year, God, Past the Mission, Baker Baker, The Waitress, Cornflake Girl, Space Dog – mixed by Kevin Killen

Bells for Her, The Wrong Band, Icicle, Cloud On My Tongue: mixed by Ross Cullum

Yes, Anastasia: mixed by Kevin Killen and Ross Cullum

String Section: Violins: Ezra Klinger, Nancy Roth, John Wittenberg, Francine Walsh, Michael Harrison, Chris Reutinger, Violas: Jimbo Ross, Cynthia Morrow, John Acevedo, Cellos: Nancy Stein-Ross, Dane Little, Melissa Hasin, Bass: Dominique Genova.

Copyist: Robert Mills

Assistant mix engineer: Avril McIntosh.
Assistant Engineer: John Fundi (LA) and Shawn De Feo (London).

Under the Pink was recorded in an old Hacienda in New Mexico we call The Fishhouse. Strings recorded at Westlake Studios, LA. Mixed at Olympic Studios, London. Production Coordinator: Julie Larson. Production Assistance, Transportation Manager and all round Goddess: Judy Reynolds

Mastered by Bob Ludwig at Gateway Mastering Studios, Portland, Maine.


---
Thanks to Bösendorfer for making the best pianos in the world, for sending one special 'girl' out to us in the desert. All songs were recorded on the Bösendorfer except "Bells for Her" which was recorded on an old upright that Phil and Eric demolished or made better I'm not sure. Thanks to Apple Computers it's Bitchin what these things can do.

Special Thanks to Mom and Dad, Arthur (the still very nice manager) Spivak, Peter Adam Golden, Jillian, Judy Reynolds, Julie Larson, Cindy Palmano, Karen Binns, Ina Meibach, All the musicians who worked on the record; Eric Rosse, "Bev" Jones, Roz & the kids, Paul McKenna, Ross Cullum, Kevin Killen (sweepy pies), Philly and Marta, Caton for not dying, Aves and Shaunn, George and Carlo and some jambalaya, Trent Paulinho and Merry, Ian Stanley, Elyse Taylor, Lee Ellen Newman and all those at East West London, Jason Flom, Patti Conte, Vicky Germaise, Mel Lewinter, Val Azzoli and all those at Atlantic America, Phil Holthouse, Sonny's Cafe, hi Neil, Davitt Sigerson, Chris MaGrath and Lesley Kemp, Ron Anderson, Vince Cooke, Grant Freeman, Chris, Dianna and Byron, Elizabeth the Trainer, Scott and Kim, Elisa Green, Rantz and Zane, Cindy from Montanna, the Families Mike and Deb, WesPhil and Pumpkin, Marie and Tom, Code the wrong band Wode, Caseman, Kit, Kelsey and Cory, Ross and Barb, Tom Richards at Upside Down, Missy and Richard at RDT, Scrumpy, and as always Doug, Max, the Faeries and the wolf.


---
t o r i p h o r i a
tori amos digital archive
yessaid.com