songs | interviews | photos | tours | boots | press releases | timeline | stories

---

press release | promo bio | discography | photos | tour | interviews

---
1992-03-16 / 1992-04-13 / 1992-10-07





A*Vision Entertainment press release
October 7, 1992

A*VISION RELEASES TORI AMOS COLLECTION ON HOME VIDEO

Longform Video Combines Live Footage with Videos from Tori Amos' Debut Album

NEW YORK, N.Y. -- Tori Amos released her debut album Little Earthquakes to sparkling reviews and critical acclaim. Her haunting voice and unique style of piano playing gives Tori a sound that is unequivocally her own. The home video release contains the tracks; "Silent All These Years", "Winter", "China", and "Crucify." Included in this package are never before seen live versions of "Precious Things", "Happy Phantom", "Little Earthquakes" to name a few. The viewer is given the opportunity to see what life on the road is like from the behind the scenes footage included in this 55 minute long home video. If you never experienced the magic of this artist here is your change to get the entire picture of what everyone around the country is talking about.

Tori Amos began playing music at the age of five, when she got a scholarship to the Peabody Conservatory in Baltimore. Her parents in North Carolina brought music into the home early. Tori remembers hearing a lot of various styles from Fats Waller to Nat King Cole to Jimi Hendrix. This early exposure to different styles of music explains the many influences that comes across in her own song writing. At 11 years old, Tori got thrown out of the conservatory for playing by ear.

The next several years, found Tori playing Gershwin standards accompanied by her father. They found bars and hotels across Washington and Baltimore where she could play. Tori was living a double life; on the one hand she was playing music at night with people twice her age, then the next morning found her in high school with people her own age. In her late teens, Tori moved to Los Angeles, vowing to never play the piano again. While visiting a friend's house where there was a big old piano, she began to tentatively noodle on the keyboard. She started to discover her old voice, her old self. This would later turn into the beginnings of the Little Earthquakes album. Tori moved once again to England where she found the creative energy to complete the workings of her stunning debut record.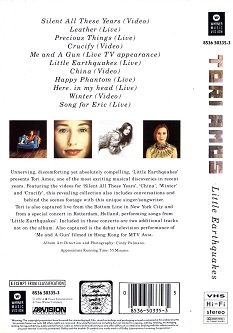 [see also: Little Earthquakes VHS]


---
t o r i p h o r i a
tori amos digital archive
yessaid.com