songs | interviews | photos | tours | boots | press releases | timeline | stories

---


press release | promo bio | discography | photos | tour | interviews

Tea with the Waitress

---
1993-11 (UK) / 1994-02 (US)




Atlantic Records promo bio
February 1994

"If there's a theme on 'UNDER THE PINK,' it's one of self-empowerment -- whether it's women acknowledging the violence in themselves or people coming to terms with the loss of hope. It's about the refusal to see yourself as a victim, and how to have passion in your life without equating it with violence. It's just as personal and just as involved as before. There might be other characters in these songs that we haven't met before, but it's still me." - Tori Amos

The bad girl. The self-righteous virgin. The prostitute... Each of these characters -- among many others -- forms a piece of Tori Amos's unique persona. A wildly original talent who pours naked emotion into every song, Tori was introduced to the world with the 1992 release of "LITTLE EARTHQUAKES" -- a series of intense meditations on religion, love, relationships, self-actualization, and breaking the bonds of sexual guilt.

Featuring Amos's exceptional voice, melodic invention, lyrical extremity, and innovative keyboard work, "LITTLE EARTHQUAKES" sold over 1,000,000 copies worldwide and struck RIAA gold in the U.S. propelled by press raves, heavy MTV exposure, and alternative radio play for such tracks as "Silent All These Years" and "Crucify." Over a 14-month period following the album's release, Tori played more than 200 shows, riveting audiences around the globe with performances that combined outrage and spirituality with frank sensuality.

While she crisscrossed the U.S. on her debut headlining tour, Tori also garnered considerable radio play with her extraordinary rendition of Nirvana's "Smells Like Teen Spirit" (which was featured on "CRUCIFY," a special edition CD EP).

"UNDER THE PINK," Tori's second full-length solo outing, continues to document her inner journey. Produced by Amos and long-time collaborator Eric Rosse, "UNDER THE PINK" is infused with the same cathartic intensity that informed "LITTLE EARTHQUAKES," this time applied to a much broader canvas.

Emerging, as Tori says, "from the womb rather than the head," her new songs explore the emotional landscapes that are both discomforting and enlightening, harrowing and rewarding. About the new album, Amos states, "You have to dig a little deeper. These are not just naked little flowers coming to woo you like on the last record. This is very raw stuff."

With basic tracks and vocals recorded at The Fishhouse, an old hacienda in New Mexico, "UNDER THE PINK"'s stirring string parts were over-dubbed in Los Angeles, while mixdown was at Olympic Studios in London.

The album opens with "Pretty Good Year," a series of sketches about friends, with several revelations from Tori's inner calendar. The song's dynamics suggest runaway emotions barely kept in check.

With its distorted, squealing guitar harmonies and killing groove (assisted by percussion ace Paulinho Da Costa), "God" offers a raging voice flinging lyrics that explore the limitations of our patriarchal society and religion.

Other standout songs include "Past the Mission," which features Nine Inch Nails' Trent Reznor providing an uncharacteristically melodic harmony vocal; and "Baker Baker," whose still arrangement provides the perfect platform for Amos's revelatory singing.

Inspired by Alice Walker's novel, Possessing the Secret of Joy, "Cornflake Girl" showcases Tori's compelling piano work and includes a guest vocal by Merry "Gimme Shelter" Clayton. "There's the Cornflake Girls and the Raisin Girls, and they represent two different ways of thinking: narrow-mindedness and open-mindedness," Amos notes. "It's about the disillusionment that comes from the realization that someone has gone from one way of thinking to another. It's also about this idea that women are the good guys and men the bad guys, which just isn't true all the time."

The child is father to the man -- or woman. Born in North Carolina, the daughter of a Methodist preacher, Tori grew up listening to the music of Fats Waller, Nat King Cole, Jimi Hendrix, and John Lennon. A gifted child prodigy, she could play the piano by the age of two-and-a-half and was composing musical scores by the age of four. "I was a freak child who had really good rhythm," she recalls. "I'd be invited to parties simply because I played the piano. It took me some time to come to terms with this, but I grew to realize that I had some kind of calling."

Between the ages of five and eleven, she trained at the prestigious Peabody Conservatory in Baltimore before being dismissed for "irreconcilable differences." "I came in playing by ear and could play almost everything I heard," Tori recalls. "The whole idea was that to be a classical pianist you had to learn to read music. I knew that, but the way they did it was to try to break the ear, so that it would force me to read." In her teens, Tori tried to rediscover her musical instincts by playing Gershwin standards and the like in bars and hotels in Washington, D.C. and Baltimore.

It wasn't until the mid-'80s, while residing in Los Angeles, that Amos began composing the songs that would become the highly acclaimed "LITTLE EARTHQUAKES." "I went into that album with all this stuff in my life that I hadn't acknowledged and that I needed to talk about," she says. "A lot of people came to the party and said, 'I can identify with what you're saying.' Then the party ended and everybody went home. But that wasn't the end of it. I had to wake up six months later and realize that there was all this new stuff that I had to acknowledge, that there was a whole lot more to say."

Which brings up to 1994 and the great songs, new characters, and new revelations contained in "UNDER THE PINK." "I don't see myself as weird," Tori exclaims. "I just see myself as honest. That's just the way I am. I find the truth endlessly interesting."


---
Under the Pink promo photo
by Cindy Palmano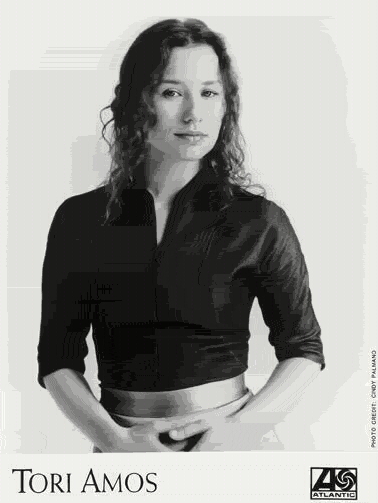 Under the Pink promo photo
by Loren Haynes


---
t o r i p h o r i a
tori amos digital archive
yessaid.com