songs | interviews | photos | tours | boots | press releases | timeline | stories

---

press release | promo bio | epk | discography | photos | tour | interviews

---
1998-03-30 / 1998-05-04 / 1998-07-14




Atlantic Records press release
March 30, 1998

TORI AMOS CHECKS INTO THE CHOIRGIRL HOTEL;
SNEAK PREVIEW CLUB TOUR SET TO PREMIERE NEW ALBUM;
"PLUGGED" ITINERARY MARKS FIRST-EVER SHOWS WITH FULL BAND;
ONLINE PROMOTION OFFERS EXCLUSIVE BONUS NON-ALBUM TRACK

Atlantic Records has set May 5th as the release date for the eagerly awaited new album from Tori Amos, entitled "from the choirgirl hotel." The album is being preceded by the first single, "spark," which has just shipped to radio outlets nationwide.

To herald the arrival of "from the choirgirl hotel," Tori is embarking on a special "Sneak Preview '98 'Plugged'" of North American clubs. The 12-city, cross-country itinerary will open at the Chili Pepper in Ft. Lauderdale, Florida on Saturday, April 18th and wrap up two-and-a-half weeks later, on May 6th, at the El Rey Theatre in Los Angeles.

The rare club shows will mark the premiere performances of "from the choirgirl hotel." These "Plugged" dates will also mark Tori's first-ever tour with a full band, featuring long-time collaborator Steve Caton on guitar, Matt Chamberlain on drums, and Jon Evans on bass, with Tori herself on vocals and keyboards. Following the Sneak Preview '98 itinerary, Tori will embark on an extensive European itinerary before returning to the U.S. this summer for a major cross-country trek.

For Tori, her upcoming world tour represents a major step in her evolution as an artist and performer. Since the first performances of the songs that made up her 1992 debut solo album, "LITTLE EARTHQUAKES," Tori has passionately communicated with her live audiences simply through her voice and piano. Over the past six years, she has toured the world extensively, building one of the most fervent, dedicated followings in music today by forging an extraordinarily intimate connection with her fans.

The North American leg of Tori's 1996 "Dew Drop Inn" tour was highlighted by multiple sold-out nights at venues from coast-to-coast. For example, Tori's first show at the 5,600-capacity Theater at Madison Square Garden sold out within a half hour; a second show was immediately added and sold out that afternoon, prompting the addition of a third sold-out show. Heavy ticket demand also fueled three-show stands at The Greek (capacity 6,162) in Los Angeles, Washington, D.C.'s Constitution Hall (capacity 3,746), and Boston's Wang Center (capacity 3,711).

While anticipation of the upcoming club dates is already running at fever pitch among Tori's legion of fans, by taking a full "Plugged" band out on the road and enlarging the sonic scope of her live work, she is bringing the Tori concert experience into a whole new realm.

Tickets to all Sneak Preview shows will be sold through a box office voucher system only, with a maximum of two tickets sold to each person. There will be no ticket outlet or charge-by-phone sales for any of the twelve performances. Details regarding ticket sales will be announced by local radio and/or print outlets in each city.

* * * * *

All twelve tracks on "from the choirgirl hotel" were written and produced by Tori Amos, with recording and mixing credits going to longtime associates Mark Hawley and Marcel Van Limbeek. The album was recorded in Cornwall, England in a 200-year-old barn, specially converted into a state-of-the-art recording studio. Supporting musicians include band members Steve Caton and Matt Chamberlain, along with programmer Andy Gray, bassists Justin-Meldal-Johnsen and George Porter, Jr., guitarist Stewart Boyle, pedal steel player Al Perkins, and the Sinfonia of London.

"I'd taken the 'girl and the piano' thing as far as I could, and I really wanted to be a player with other players," Amos recently told Billboard (April 4th issue). "It was very important for my growth as a musician to play with other musicians instead of having them play around me."

The complete track listing of "from the choirgirl hotel" is: spark * cruel * black-dove (january) * Raspberry Swirl * Jackie's Strength * iieee * liquid diamonds * She's your cocaine * Northern Lad * Hotel * playboy mommy * Pandora's Aquarium

"from the choirgirl hotel" is Tori Amos's fourth album proper, following three consecutive RIAA platinum releases: "LITTLE EARTHQUAKES" (1992), "UNDER THE PINK" (1994), and "BOYS FOR PELE" (1996).

* * * * *

On the internet front, every performance of Tori's "Plugged" club tour will be specially documented within Tori's official website (www.tori.com), which will feature a full report on each concert, along with still photos, live song clips, and interviews. In addition, Tori will be personally responding to video e-mail messages submitted by fans across North America via 3Com's "Big Picture" technology. A new set of Tori's e-mail responses will be posted each day on the tori.com site, which is being officially re-launched on April 10th.

Amos's April 30th concert at the Park West in Chicago is set for a nationally syndicated live Album Network radio broadcast and a milti-tiered webcast -- highlighted by a three-camera RealVideo shoot.

* * * * *

In advance of the "from the choirgirl hotel" street date, Amos and her band will perform "spark," the album's first single, April 10th on CBS-TV's Late Show with David Letterman. The song's companion video, now in production, is being directed by James Brown (Finley Quaye, Apollo 440, Mansun).

Coinciding with Atlantic's re-launch of tori.com, the website will feature footage of her Letterman performance of "spark." Beginning April 10th, the refreshed website will also be the launching pad for a remarkable online promotion, conducted in cooperation with Tower Records and AT&T's "a2b music," which will offer an exclusive downloadable bonus Tori track for anyone who pre-orders their copy of "from the choirgirl hotel" through Tower Records. The song, "Merman," is a brand-new recording that will not appear on the new album.

Fans can pre-order the album at Tower Records retail outlets, through the Tower Records toll-free hotline, or online via both the Tower website and America Online (Keyword: Tower). At that time, customers will be provided with a unique code, enabling them to download the full-length, CD-quality "Merman" track. Those who place their orders at Tower outlets will be given a special Tori collectible postcard at the register, which will include their access code and complete downloading instructions.

The "Merman" download will be offered utilizing state-of-the-art technology from AT&T's proprietary "a2b music," designed to safeguard against piracy. Once downloaded, the song will be playable only through the computer which receives it. The track's audio file cannot be copied or transferred to any other machine.


---
from the choirgirl hotel promo photos
by Darren Keith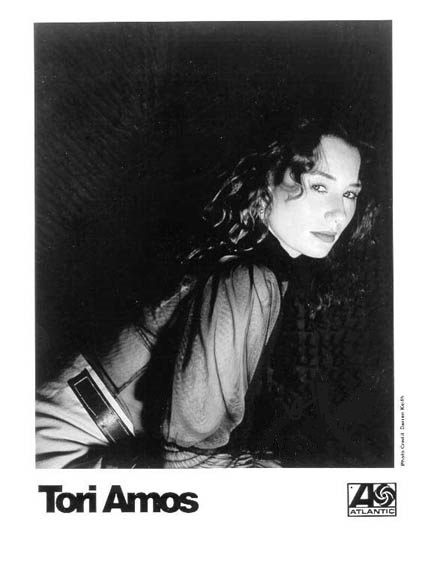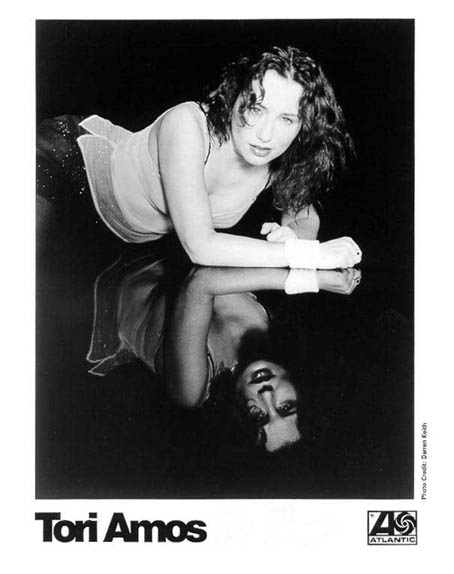 ---
t o r i p h o r i a
tori amos digital archive
yessaid.com