songs | interviews | photos | tours | boots | press releases | timeline | stories

---

press release | promo bio | epk | discography | photos | tour | interviews

---
1998-03-30 / 1998-05-04 / 1998-07-14




Atlantic Records press release
May 4, 1998

TORI AMOS SETS U.S. SUMMER TOUR, WITH FIRST-EVER ARENA DATES; ACCLAIMED, SRO "SNEAK PREVIEW" CLUB TOUR WRAPPING UP; NEW ALBUM IN STORES TUESDAY, MAY 5th

Atlantic recording artist Tori Amos has announced the initial dates of her extensive summer 1998 tour of North America, which will include her first-ever arena shows. The announcement comes as Amos is wrapping up her current "Sneak Preview '98 'Plugged'" club trek, a 12-city outing that has offered fans an up-close premiere of the artist's first-ever tour with a full band. Generating rave reviews across the country, the "Sneak Preview" shows have served as a live introduction to Tori's new album, "from the choirgirl hotel" -- which arrives in stores on Tuesday, May 5th.

At press time, sixteen shows on Tori's summer tour have been formally announced, beginning with her July 15th concert at Milwaukee's Mecca Auditorium and including a July 28th date at New York City's venerable Madison Square Garden. The dates are slated to go on sale beginning this week.

Meanwhile, Tori officially concludes her "Sneak Preview" itinerary this Wednesday, May 6th, at the El Rey Theatre in Los Angeles. The following morning, she is scheduled to perform in the parking lot of the Palace Theatre in Hollywood for a special KROQ/Los Angeles live radio broadcast. Tori and her band will play several songs sometime after 8 AM (Pacific Time), during the "Kevin & Bean" show.

Tori's "Sneak Preview" shows have marked the debut of her live band, featuring long-time collaborator Steve Caton on guitar, Matt Chamberlain on drums, and Jon Evans on bass, with Tori herself on vocals and keyboards. By incorporating a band into the mix, Amos has enlarged the sonic scope of her live work, bringing the Tori concert experience into a whole new realm.

As The New York Times noted in its review of Amos's recent SRO show at New York City's Irving Plaza: "Her real source of power was grounded in her new musical approach... the musical arrangements showing the influence of sharp-edged bands like Garbage, as well as the classic art-rock of Peter Gabriel and 'SCARY MONSTERS'-era David Bowie... Reworking old material or trying out her bold new work, Ms. Amos stayed true to her mission: the pursuit of a fully female expression as intense as the heroic rock of bands like Led Zeppelin. This quest takes Ms. Amos into the realm of goddess-oriented legends, but also into a common sexual and emotional history... Her zeal for this new heroic labor was palpable and potent."

On the internet front, every performance of Tori's "Sneak Preview" tour has been specially documented within Tori's official website (www.tori.com), which has been featuring a full report on each concert, along with still photos, live song clips, and interviews. In recognition of her vast internet audience, Tori has been personally responding to video e-mail messages submitted by fans across North America via 3Com's "Big Picture" technology. A new set of Tori's email responses are posted each day on the tori.com site.

Along the way, Amos's April 30th concert at the Park West in Chicago was aired within a nationally syndicated live Album Network radio broadcast and a multi-tiered webcast -- highlighted by a three-camera RealVideo shoot.

* * * * *

The release of "from the choirgirl hotel" has been preceded by the album's first single, "spark," which has stepped out as a top 10 most-added track at modern rock outlets nationwide. The song's companion video, directed by James Brown (Finley Quaye, Apollo 440, Mansun), has jumped into Stress rotation on MTV and is being seen in Custom rotation on VH1. Amos and her band performed "spark" April 10th on CBS-TV's Late Show with David Letterman. On May 11th, she is scheduled to appear on NBC-TV's Tonight Show with Jay Leno.

"from the choirgirl hotel" has already earned widespread, out-of-the-box critical praise, including a four-star review in Rolling Stone (May 14th issue). In a feature story on Tori appearing in the new issue of Time (May 11th), the album is acclaimed as "the best and boldest of her career... you are swept up in the force and energy of the music."

"from the choirgirl hotel" is Tori Amos's fourth solo album, following her three consecutive RIAA platinum releases: "LITTLE EARTHQUAKES" (1992), "UNDER THE PINK" (1994), and "BOYS FOR PELE" (1996).


---
from the choirgirl hotel promo photos
by Darren Keith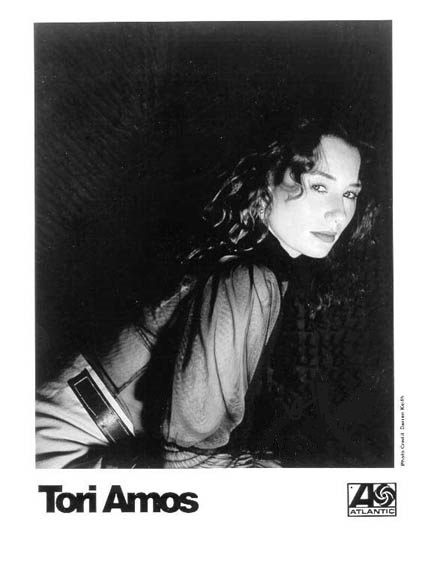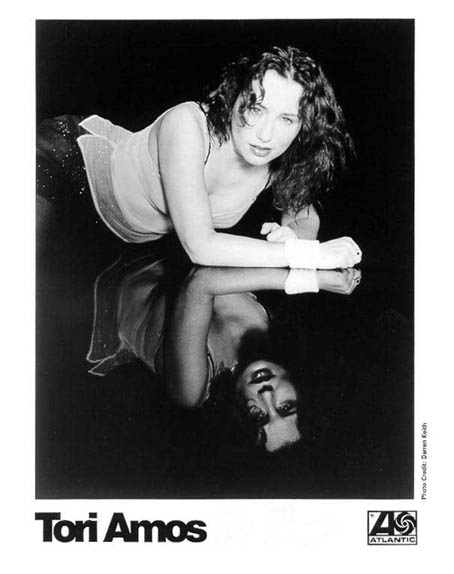 ---
t o r i p h o r i a
tori amos digital archive
yessaid.com