songs | interviews | photos | tours | boots | press releases | timeline | stories

---
The Gazette (US)
Montgomery County, Maryland
Wednesday, June 22, 1988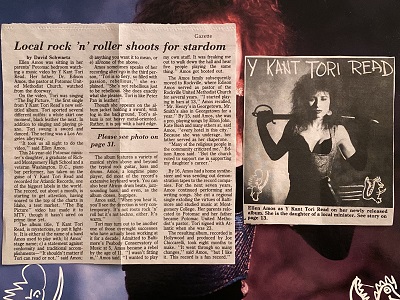 Local rock 'n' roller shoots for stardom

by David Schwartz

Ellen Amos was sitting in her parents' Potomac bedroom watching a music video by Y Kant Tori Read. Her father, Dr. Edison Amos, the pastor at Potomac United Methodist Church, watched from the doorway.

On the video, Tori was singing "The Big Picture," the first single from Y Kant Tori Read's new self-titled album. Tori sported several different outfits: a white skirt one moment, black leather the next. In addition to singing and playing piano, Tori swung a sword and danced. The setting was a Los Angeles alleyway.

"It took us all night to do the video," said Ellen Amos.

This 24-year-old Potomac minister's daughter, a graduate of Richard Montgomery High School and a veteran Washington, D.C., piano bar performer, has taken on the guise of Y Kant Tori Read and recorded for Atlantic Records, one of the biggest labels in the world. The record, out about a month, is starting to get attention, having soared to the top of the charts in Idaho, a test market. "The Big Picture" video has made it to MTV, though it hasn't aired on prime time yet.

The album title, Y Kant Tori Read, is mysterious, to put it lightly. It is either a) the name of a band Amos used to play with; b) Amos' stage name; c) a statement against conformity and traditional accomplishments. "It shouldn't matter if Tori can read or not," said Amos; d) anything you want it to mean, or e) all/none of the above.

Amos sometimes speaks of her recording alter ego in the third person, "Tori is so fiery, so filled with passion, rebellious," she explained. "She's not rebellious just to be rebellious. She does exactly what she pleases. Tori is like Peter Pan in leather."

Though she appears on the album jacket holding a sword, with fog in the background, Tori's album is not heavy metal-oriented. Rather, it is pop with a hard edge.

The album features a variety of musical styles above and beyond the typical rock guitar, bass and drums. Amos, a longtime piano player, did most of the record's extensive keyboard work. You can also hear African drum beats, jazz-sounding bass, and even, as the album closes, bagpipes.

Amos said, "When you hear it, you'll see the direction is very contemporary. It's not roots rock 'n' roll but it's not techno, either. It's warm."

Tori may turn out to be another one of those overnight successes who have actually been working at it for a decade. Admitted to Baltimore's Peabody Conservatory of Music at 5, Amos became a rebel by the age of 11. "I wasn't fitting in," Amos said, "I wanted to play my own stuff. It was freaking me out to walk down the hall and hear five people playing the same thing." Amos got booted out.

The Amos family subsequently moved to Rockville, where Edison Amos served as pastor of the Rockville United Methodist Church for several years. "I started playing In bars at 13," Amos recalled, "Mr. Henry's in Georgetown, Mr. Smith's also in Georgetown for a year." By 15 she was a pro, playing songs by Elton John, Kate Bush and many others at, said Amos, "every hotel in this city." Because she was underage, her father served as her chaperone.

"Many of the religious people in the community criticized me," Edison Amos said. "But the church voted to support me in supporting my daughter's career."

By 16, Amos had a home synthesizer and was sending out demonstration tapes to the record companies. For the next seven years, Amos continued performing and writing songs. She cut a regional single extolling the virtues of Baltimore and studied music at Montgomery College. Her parents relocated to Potomac and her father became Potomac United Methodist's pastor. Tori signed with Atlantic when she was 23.

The resulting album, recorded in Hollywood and produced by Joe Chiccarelli, took eight months to make. "It went through so many changes," said Amos, "but I like it. This record is a fun record."


---
t o r i p h o r i a
tori amos digital archive
yessaid.com