songs | interviews | photos | tours | boots | press releases | timeline | stories

---
The Guardian (UK)
Monday, September 3, 2007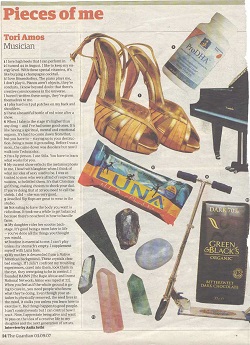 Pieces of me

Tori Amos
Musician

Interview by Anita Sethi

Tori Amos was born Myra Ellen Amos in Maryland, in 1963, the daughter of a Methodist preacher. In 1992 she released her first album, Little Earthquakes. Her autobiography, Piece by Piece, was published in 2005. Her latest album, American Doll Posse, is out now and she is currently on a world tour. She is married to sound engineer Mark Hawley, and they live in Cornwall with their daughter.

1 I love high heels that I can perform in.

2 I turned 44 in August. I like to keep my energy level. With these special vitamins, it's like burping a champagne cocktail.

3 I love Bosendorfers. The piano plays me, I don't play it. Pianos aren't objects, they're conduits. I know beyond doubt that there's creative consciousness in the universe. I haven't written these songs, they've given themselves to me.

4 I play hard so I put patches on my back and shoulders.

5 I have a beautiful bottle of red wine after a show.

6 When I take to the stage it's higher than any drug -- and I've had some good ones. It's like having a spiritual, mental and emotional orgasm. It's hard to come down from that, but you have to -- staying up is your destruction. Being a mom is grounding. Before I was a mom, the come-down was desolate but now I walk into Technicolor.

7 I'm a lip person. I use Stila. You have to learn what works for you.

8 My current show reflects the metamorphosis in me. I howl with laughter when I think of what my idea of sexy used to be. I was attracted to men who were afraid of respecting women, so belittled them. It's that Christian girl thing, making choices to shock your dad. If you're doing that at 30 you need to call the shrink. I did -- she was very good.

9 Jewelled flip flops are great to wear in the studio.

10 Not eating to have the body you want is ridiculous. It took me a while to get balanced because there's no school in how to handle fame.

11 My daughter rides her scooter backstage. It's good being a mom later in life -- you've done all the things you thought you would.

12 Routine is essential to me. I can't play unless my stomach's empty. I supplement myself with Luna bars.

13 My mother is descended from a Native American background. These crystals clear bad energy. If I didn't confront my troubling experiences, crawl into them, look them in the eye, they were going to be in control. I founded RAINN (The Rape Abuse and Incest National Network; Amos was raped at 22). When you feel as if the whole ground is going to cave in, you need people who know what they're doing. Even though your attacker is physically removed, the seed lives in the mind, it stalks you unless you learn how to exorcise it. Bad things happen to good people. I can't control events but I can control how I react. Now, I appreciate being alive and want to pass on the idea of a creative life to my daughter and the next generation of artists.


---
t o r i p h o r i a
tori amos digital archive
yessaid.com