songs | interviews | photos | tours | boots | press releases | timeline | stories

---
Live at Montreux 1991/1992

press release / photos

---
US press release / UK press release / press photo


Eagle Rock Entertainment UK press release
September 15, 2008

Blu Ray: "Live At Montreux 1991/92"

Eagle Rock Entertainment is proud to announce the release on Blu Ray of Tori Amos "Live At Montreux 1991/92" [Cat No ERBRD5016] on 1 December 2008. This release offers two complete concerts in one package and feature all her early hits: "Crucify", "Silent All These Years", "China" and "Winter" plus album tracks and rarities. Eagle was the first visual music company to embrace High Definition and their commitment to the new technology continues with new additions to their Blu Ray catalogue.

These two concerts from Montreux in 1991 and 1992 catch Tori Amos right at the start of her solo career. The first from July 1991 was filmed a few months before the release of her "Little Earthquakes" album and the second from July 1992 followed a few months after. There is a fascinating progression from one year to the next as she grows in confidence and skill as a live performer, buoyed by the critical and commercial success of the album. Naturally most of the songs are taken from "Little Earthquakes" but there are also rare songs from her various EPs released across the two years which didn't make it onto the album including her distinctive takes on Led Zeppelin's "Whole Lotta Love" and "Thank You" and Nirvana's "Smells Like Teen Spirit".

TRACKLISTING

1991 Show
1) Silent All These Years 2) Precious Things 3) China 4) Crucify 5) Leather 6) Song for Eric 7) Upside Down 8) Happy Phantom 9) Winter 10) Thank You

1992 Show
1) Little Earthquakes 2) Crucify 3) Silent All These Years 4) Precious Things 5) Happy Phantom 6) Whole Lotta Love/Thank You 7) Me and a Gun 8) Winter 9) Smells Like Teen Spirit

A famously idiosyncratic, maverick performer who was in the vanguard of alternative rock performers who used the piano as their main instrument, Amos has gone on to sell over 12 million records worldwide. These shows underline just why the multiple Grammy-nominee has made such a mark in modern music.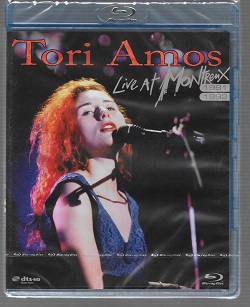 ---
Live at Montreux 1991/1992 press photo
2008


---
t o r i p h o r i a
tori amos digital archive
yessaid.com