songs | interviews | photos | tours | boots | press releases | timeline | stories

---

press release | discography | photos | tour | story | interviews

---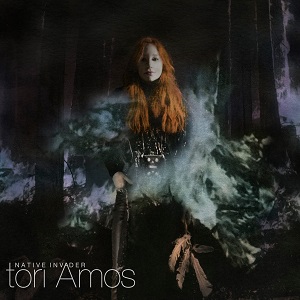 [liner notes]

lyrics, quotes & videos

1. Reindeer King
2. Wings
3. Broken Arrow
4. Cloud Riders
5. Up the Creek
6. Breakaway
7. Wildwood
8. Chocolate Song
9. Bang
10. Climb
11. Bats
12. Benjamin
13. Mary's Eyes

Deluxe Edition bonus tracks

14. Upside Down 2
15. Russia

Unreleased/Unfinished Songs

Black is the Color
Stone by Stone
Baptize Your Love


---


Native Invader is Tori's fifteenth solo album, released on September 8, 2017, by Decca Records. The album was produced by Tori Amos and recorded at Martian Engineering in Cornwall, England, by Mark Hawley and Marcel van Limbeek.




Announcement from toriamos.com
April 23, 2017
"The songs on Native Invader are being pushed by the Muses to find different ways of facing unforeseen challenges and in some cases dangerous conflicts. The record looks to Nature and how, through resilience, she heals herself. The songs also wrestle with the question: what is our part in the destruction of our land, as well as ourselves, and in our relationships with each other?

In life there can be the shock of unexpected fires, floods, earthquakes, or any cataclysmic ravager -- both on the inside and outside of our minds. Sonically and visually, I wanted to look at how Nature creates with her opposing forces, becoming the ultimate regenerator through her cycles of death and re-birth. Time and time again she is able to renew, can we find this renewal for ourselves?"


---
Celebrating the completion of Native Invader
July 9, 2017 - Cornwall, England



Marcel, Tori & Mark, John Witherspoon and Jon Astley


---
North American tour announcement
July 10, 2017 - Facebook Live




---
"Cloud Riders" premiere
July 27, 2017 - Tori releases "Cloud Riders" to preview the album.




---
* be a yessaid patron, support the Tori archives *

t o r i p h o r i a
tori amos digital archive
yessaid.com