songs | interviews | photos | tours | boots | press releases | timeline | stories

---


press release | Scarlet Stories | discography | photos | tour | interviews

---
Tori Amos: Scarlet's Web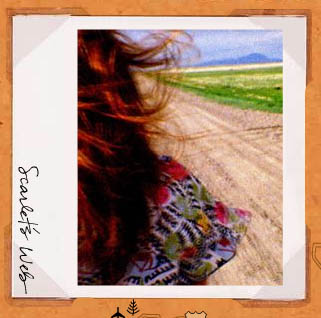 Tori Amos launched Scarlet's Web on October 29, 2002, to coincide with the US release of Scarlet's Walk and included a link to streaming audio of "Tombigbee" hidden on a map. "Mountain" and "Seaside" were found months later. Here are a few other things posted on Scarlet's Web during the tour...


ConnecteD entrance page to


via toriamos.com/scarletsweb



2002 screen capture


* Rehearsal Photos

Tampa, Florida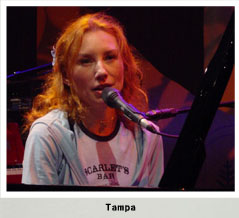 West Palm Beach, Florida





* Setlists

March 18, 2003 - Indianapolis, Indiana




March 26, 2003 - Green Bay, Wisconsin





* Tour Diary

November 20, 2002 - Montreal, Canada





* Tori's Tips





* Potions and Elixirs

Tori's chef, Duncan, contributed potions and elixirs for Tori each night on the Scarlet's Walk tour. His creative and thoughtful potions added to the beauty and depth of every performance. These are the recipies he conjured up using his extensive collection of essential oils.


Amber Waves



Wednesday



strange



Crazy



pancake



I can't see New York



mrs. jesus



Taxi Ride



another girl's paradise



Scarlet's Walk



gold dust



November 16, 2002 - Wallingford, Connecticut



November 17, 2002 - Providence, Rhode Island



November 27, 2002 - Chicago, Illinois



December 3, 2002 - St. Louis, Missouri



December 12, 2002 - Seattle, Washington



December 12, 2002 - La Jolla, California



December 17, 2002 - Los Angeles, California



December 20, 2002 - San Francisco, California



February 20, 2003 - Boca Raton, Florida



February 21, 2003 - Jacksonville, Florida



February 22, 2003 - Birmingham, Alabama



February 23, 2003 - Nashville, Tennessee



February 26, 2003 - Greensboro, North Carolina



March 3, 2003 - Portland, Maine



March 4, 2003 - Durham, New Hampshire



March 6, 2003 - New York, New York



March 7, 2003 - New York, New York



March 8, 2003 - New York, New York



March 11, 2003 - Toledo, Ohio



March 12, 2003 - Grand Rapids, Michigan



March 13, 2003 - Buffalo, New York



March 15, 2003 - Louisville, Kentucky



March 16, 2003 - Pittsburgh, Pennsylvania



March 19, 2003 - Erie, Pennsylvania



March 20, 2003 - Cincinnati, Ohio



March 24, 2003 - Omaha, Nebraska



March 26, 2003 - Green Bay, Wisconsin



March 28, 2003 - Madison, Wisconsin



March 30, 2003 - Duluth, Minnesota



April 1, 2003 - Grand Forks, North Dakota




* Scarlet's Web Journal

2002 - "Strange"

Been Days now. Meeting up with Kurt -- to see the Big Sky. From his eyes.

I'm here. Moscow. Don't really know exactly where anything stands but the coffee's good. The company has been good. I dropped him at this rectangular shape called Airport. We've been shadowing The Nez Perse on their "emancipation to Canada."

Yes. I realize the end is a complete Downer. Final. The End. Not Good. But I'm not there yet. They're still diving and weaving, out smarting the Calvary. From where I stand I can still feel promise in the air... Big Hole. The land here, an ally.

She was protecting them. And then the miscalculations.

But I'm not there yet.

Over the pass to a warm fire at Kurt's.

Been hanging out with Kurt's posse. He's shooting something but he asked if I'd like to be a part and I said -- maybe from a Distance. He seems to know every dirt road every chili stop (never associated Chili with Montana) every cowboy bruised, bow legged or chapped (that would be busting in, buckled up, and taut). Look. He was shooting this guy. It would have been rude not to notice.

He let me view this through his lens. Jeez . The guy can locate an angle.

A message was left for me. I'm not ready to move on to Mind yet. Off on my own to hook up with Kurt in 48.

Outside. Wrapped up. Strange but I'm not cold. Alive, just alive.
Said goodbye to Kurt. Not easy. Montana has been safe. A haven. Not safe in the end for the Nez Perse. Not safe for Custer. Which reminds me of this song -- "Buttermilk Mountain." "As far as I'm concerned old Custer got what he deserved."

Hooked up with Manny at Lame Deer Rez. Went for a coffee. "Where's your steel pony takin' you this time?"
Silence.
"O.K. What's his name?"
"I call him Strange."
"hum, and you don't think that's sorta weird?"
"He's familiar, that's all."
"That's all? You're goin' about a thousand miles for a he's familiar that's all? I'm not buyin it..."

Little Big Horn always chills me out. I don't know why. Maybe so many Braves having been in one place.
"I could use a Brave, Manny."
"Well, if you're lookin' for beautifully sculpted bodies with eagle feathers flying on wild mustangs, you gotta long wait little sister. Or you need to hijack some government time machine." "Yeah, well. Been down to Area 51 and didn't find Richard."
"Richard?"
"D***"
"Oh."
"Ya know, maybe the Braves these days are chasin' somethin' we can't see on those computers. They gotta do something, right?"
"We'll see Manny. We'll see."
"Fill up that steel pony. It will stop and it won't mean any harm. And it's a long walk to the Badlands."


---
t o r i p h o r i a
tori amos digital archive
yessaid.com