songs | interviews | photos | tours | boots | press releases | timeline

---
Tori Amos: timeline
[before] [1963-1968] [1969-1974] [1975-1977] [1978-1983] [1984-1989] [1990-1992] [1993-1994] [1995-1996] [1997-1998] [1999-2000] [2001] [2002-2003] [2004-2005] [2006-2008] [2009-2010] [2011-2013] [2014-2017] [2018-2023] [future & now]


---
before

"Of course I believe in having past lives, I mean, three-quarters of the human race believes this, it's not like a great new thought here." [All These Years - 1994]

Tori's bloodline...

* Tori's parents are Doctor Edison McKinley and Mary Ellen Amos. Her mother is part-Cherokee, her father's side of the family is from France and Scotland.



Ed Amos and Mary Copeland, 1949

"I come from very strong women on both sides. My mother's great-grandmother was a full-blooded Cherokee, and my father's mother graduated from the University of Virginia in the early '20s and became a minister. I didn't get on with her at all. She'd have burnt the witches." [Esquire - October 1999]

Margaret Little

* In 1839, Tori's great-great-grandmother Margaret Little hides in the Smoky Mountains to escape the Trail of Tears. Family legend says Margaret "expressed herself by splitting doorsteps in two with her tomahawk when riled." [All These Years - 1994]

Who is your all-time hero?

"Margaret Little. She was my great-great grandmother. She survived the Trail of Tears and the Civil War, and married a plantation owner where she was a surrogate slave." [New Musical Express - May 1998]

"One of my heroes is Chief Joseph of the Nez Perce tribe. He was one of the great poets and speakers, and he led his people - who were run into the ground like foxes being chased by hounds - with such a vision. He's known for being somewhat like, in a small way, a Dalai Lama, a Gandhi, a man of dignity and vision. He's the one who said, "I will fight no more for ever."

"Over the years people have argued that maybe he didn't do the right thing, but it's such a complicated thing, what happened in America with the Native Americans. The Germans have had their feet held to the fire for what happened in World War II, but so many people in the quote-unquote most powerful country do not want to see their part in it. Chief Joseph had a similar spirit, a similar belief, to my grandfather, who was actually the first person I thought of when you asked me who was my hero." [Mojo - March 2002]

The Amos Ministers

* Tori's father's parents were James and Addie Allen Amos. Both were ordained ministers of the Christian church. They were missionaries in the Appalachian mountains of Virginia until World War II, when they moved to Baltimore to join the war effort. [All These Years - 1994]

"My father's family lived way in the Appalachian Mountains . . . The Waltons looked like luxury compared to them." [The London Independent - January 16, 1994]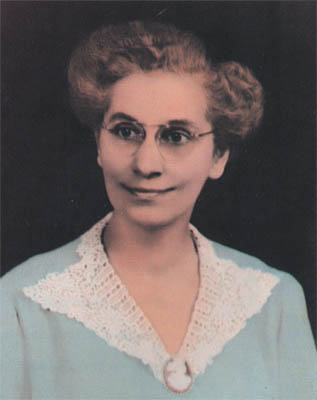 Addie Allen Amos

"I remember going one time and seeing them speak in tongues. I don't really remember my grandmother speaking in tongues, but every time I saw her she was always praying, devotions, always. That was her life. She was a very smart woman. She graduated from the University of Virginia in the '20s. She could interpret Byron and Shelley like nobody's business. That's why she was so dangerous. She's the type of person that I worry would have burned the witches. I think she would have been able to justify just about anything, in her mind, for Jesus. You know, there's so much sexual guilt in Christianity it's unbelievable." [Spin - October 1994]

"My father wanted to be James Dean or a doctor, but his parents were both ministers who grew up in Deliverance territory. He had four brothers, but my grandparents decided that he had to be the minister. Nothing he ever did would be enough for them. My grandmother would write him letters criticising his sermons. She just wanted him to be Billy Graham or something. My thing has always been to show that I'm worthy." [Time Out - December 20, 1995]

Mary Ellen Amos

* Tori's mother, Mary Ellen, grew up in Newton, North Carolina, the daughter of Calvin Clinton "C.C." Copeland, who worked in a hosiery mill, and her homemaker mother, Bertie. Mary Ellen went away to Brevard College, where she met Edison Amos, a native of rural Virginia who was studying to be a Methodist minister. The couple married and moved to Washington, DC, where Edison preached. They also started a family and had a son and a daughter. [Raleigh News & Observer - August 11, 1996]

"My mother is a real southern lady. My dad has always liked the entertaining side of things. When he was a little boy he hitchhiked 20 km to see the Wizard of Oz and to go to the movies in the mountains. He told me that he had watched Gone with the Wind for 3 days and then got spanked because he had stolen a hen from his father's farm to see Vivien Leigh. I believe he respects my devotion to music." [Rumba - March 13, 1998]



Mary Ellen Copeland, 1949

1963

* Mary is pregnant with her third (and last) child.

Summer 1963

* Mary and Edison Amos leave D.C. to visit Mary's parents in Newton, North Carolina. Mary Ellen falls ill and the doctor forbids any travel until after the baby is born.



after
---
t o r i p h o r i a
tori amos digital archive
yessaid.com