songs | interviews | photos | tours | boots | press releases | timeline

---
Tori Amos: timeline
[before] [1963-1968] [1969-1974] [1975-1977] [1978-1983] [1984-1989] [1990-1992] [1993-1994] [1995-1996] [1997-1998] [1999-2000] [2001] [2002-2003] [2004-2005] [2006-2008] [2009-2010] [2011-2013] [2014-2017] [2018-2023] [future & now]


---
2002 - 2004

January 2002

* Tori Amos signs a recording contract with a new label - Sony's Epic Records - and has even more creative freedom and control of her work.

January 12, 2002

* Tori talks about botox...

"Lines for men as they get older, it becomes very much a turn-on, but lines for women, as we age, has not been associated with 'wisdom is sexy.' And women that are running that side of the fashion or the music or whatever it is hasn't supported this either."

That's right. They get into the botox thing.

"Yeah, well..."

But it's what the industry demands. And how do you reconcile? I mean, you are you -- you're not a product. How do you deal with the productization? How you deal with that?

"I think you have to know -- I think you have to kind of decide what kind of artist you want to be. And you make peace with that. And some people have become sex symbols in their careers, and that's a very different road to take than if you're talking about the heart. That doesn't mean I won't get my botox shots. I don't know what I'm going to do because that's between you and your dermatologist." [A Conversation with Ann Powers - January 12, 2002]

February 2002

* Tori is in the studio recording her next album. It is her first release on Sony/Epic Records.

March 2002

* The March issue of Spin magazine lists Tori's top 5 favorite albums...

1. Manu Chao - Proxima Estacion: Esperanza
2. Basement Jaxx - Rooty
3. Daft Punk - Discovery
4. Placebo - Black Market Music
5. Groove Armada - Goodbye Country (Hello Nightclub)


May 7, 2002

* Tori's friend and make-up artist, Kevyn Aucoin, dies. He was born February 14, 1962.

"For those like me who loved Kevyn the person, the heart now weeps as if made of water color. Earth has lost yet another light, but perhaps, he has joined the masters who paint our sunsets." [toriamos.com - April 25, 2002]

"Yes, he was a master painter, but it was what he did in the conversation that made your inside glow, and helped you find the part of you that had grace or humor," said the singer Tori Amos, whose daughter was Mr. Aucoin's godchild.

One afternoon late in her pregnancy, she recalled, "he held my hand and said, 'I think you look so sensual right now.' I said: 'Come on, let's be real. I'm a beached whale.' And he said, 'No, I see sensuality in you, and I'm going to make you up.'

"So he made me up, and even though I could barely roll over, he took pictures of me. He captured a simple moment in our lives and turned it into something beautiful and meaningful. And he made me feel beautiful in the process.

"This was a man who loved women. Even the ones who weren't good - the nice-seeming people who were closet Cruella De Vils. I would watch him working on a person and I'd think, 'Yikes, I wouldn't want to leave my Alsatian with her.' But by the time he had told her a few jokes and finished his Baby Jane imitation, the walls of rigidity and insecurity would be broken down." [New York Times - May 12, 2002]

July 23, 2002

* A 6-song promo sampler cd called Scarlet's Walk (Selections) is sent to the press. Copies multiply and spread rapidly.



* Epic Records issues a press release:

Tuesday July 23, 11:00 am Eastern Time

Press Release
SOURCE: Epic Records
A Signing of Epic Proportions

Tori Amos' Scarlet's Walk to Begin October 29th

NEW YORK, July 23 /PRNewswire/ -- Epic Records is pleased to announce the signing of Tori Amos, one of the most celebrated and respected artists of the last decade. Tori is a unique talent whose distinctive voice and thought provoking songs have mesmerized and inspired a generation of fans throughout the world. She represents a proud addition to the Epic Records family.

Scarlet's Walk, her Epic Records debut, may very well be her most inviting release to date. It is a sonic novel of sorts which takes the listener on an aural journey of America's recent and not-so-recent past. As the story moves from coast to coast, questions are asked and notions are challenged with each song representing a specific stop along the way. In the middle of it all roams Scarlet, "...who may be the land and may be a person and may be a trail of blood" (Neil Gaiman).

The disc was self-produced and recorded in Cornwall, England (the same studio as several of her other releases). It features performances by her long-time collaborators Jon Evans on bass and Matt Chamberlain (Bowie, Fiona Apple) on drums. The record's first single "A Sorta Fairytale" will be serviced to radio in mid-September. In support of the album, Tori will embark on a headlining tour of the United States this fall with international dates to follow.

Worldwide, Tori's critically acclaimed discography includes the 1992 multi-platinum breakthrough album Little Earthquakes and 1994's Under The Pink, as well as the platinum successes Boys For Pele, From The Choirgirl Hotel and To Venus and Back. Her most recent "reinterpretations" record, Strange Little Girls, is certified gold. For her work she has received eight Grammy Nominations.

Scarlet's Walk will be available in stores October 29, 2002.

SOURCE: Epic Records

August 20, 2002

* Tori flies from England to the US to begin a radio tour promoting Scarlet's Walk the next day in Los Angeles. The first interview is on KROQ's Kevin and Bean show, around 9am Monday morning.

September 2002

* Tori, Matt Chamberlain and Jon Evans begin rehearsing in Cornwall, England, for the Scarlet's Walk tour.

October 29, 2002




* Scarlet's Walk is released. Tori appears on David Letterman and performs A Sorta Fairytale accompanied by Jon Evans on bass and Matt Chamberlain on drums. [click for photos]



November 7 - December 21, 2002

* Tori begins her seventh concert tour, On Scarlet's Walk, in Tampa, Florida, and ends in San Francisco, California. Tori plays the Bosendorfer piano, Fender Rhodes and Wurlitzer, and is accompanied by Jon Evans on bass and Matt Chamberlain on drums and other percussion. [tour details]

January 2003




January 12 - February 5, 2003

* The European leg of the On Scarlet's Walk tour begins in Glasgow, UK, and ends in Frankfurt, Germany.

February 20 - April 29, 2003

* Second US leg of the On Scarlet's Walk tour begins in Boca Raton, Florida, and ends in New Orleans, Louisiana.

May - June 2003

* The Amos/Hawley family returns to Cornwall, England, to take a break and "let Natashya play with her things." While in Cornwall, Tori, Matt Chamberlain and Jon Evans re-record a few older songs for the upcoming "best of" album to be released in November. Tori also begins remixing and remastering some of her older songs for the album.

July - September 2003

* Tori goes on tour again, this time with Ben Folds as the opening act. This tour is called the lottapianos tour. [tour details]

September 26, 2003

* Atlantic Records issues a press release:

AMOS OPENS BACK CATALOG ON FIRST-EVER COMPILATION:

"TALES OF A LIBRARIAN" CD/DVD SET ARRIVES NOV. 18TH;
COLLECTION FEATURES "RECONDITIONED" SONGS
PLUS NEW RECORDINGS;
BONUS DVD FEATURES 2003 LIVE RECORDINGS,
PHOTO GALLERIES, SURROUND SOUND AUDIO TRACKS

Atlantic Records has announced the forthcoming release of "TALES OF A LIBRARIAN," the first-ever compilation from Tori Amos. The two-disc, CD/DVD collection - which Amos describes as a musical "autobiography" - was produced by Amos and includes songs chosen by the multiple Grammy Award-nominated artist from her Atlantic career. The set is slated to arrive in stores on November 18th.

The "TALES OF A LIBRARIAN" audio CD features 20 songs that document a career spanning over a decade, among them "Precious Things," "Playboy Mommy," "Spark," "God," "Cornflake Girl," "Baker Baker," "Winter," "Tear In Your Hand," and of course, "Silent All These Years." Amos has personally revisited and "reconditioned" the original material, retooling the multi-track recordings to offer a new perspective on some of her most beloved songs.

In addition, "TALES OF A LIBRARIAN" will include a pair of brand-new songs - "Angels" and "Snow Cherries From France" - as well as newly recorded renditions of two ultra-rare B-sides - "Mary" (originally found on the European "Crucify" CD single) and "Sweet Dreams" (from 1992's limited edition "Winter" CD).

As sequenced by Amos, the songs - which Amos has always considered to be her children - form a unique personal narrative and a breathtaking view of an extraordinary body of work.

The bonus DVD features songs recorded live earlier this month during sound check of the final show of Amos' summer 2003 North American tour. Performances include "Pretty Good Year," "Northern Lad," and "Honey." The DVD also includes audio remixes of "Putting the Damage On" and "Mr. Zebra" - from the album "BOYS FOR PELE" - which, like the three live performance tracks, were specially mixed for the DVD in surround sound. Accompanying the two audio tracks are images that visually chronicle Amos' career.

Unquestionably one of the most acclaimed and influential artists of the modern era, Tori Amos first captured the world's attention in 1992 with her classic solo debut, the RIAA double-platinum certified "LITTLE EARTHQUAKES." Each consecutive Atlantic Records collection of original Amos material that followed has been certified platinum or better by the RIAA - "UNDER THE PINK" (1994), "BOYS FOR PELE" (1996), "FROM THE CHOIRGIRL HOTEL" (1998), and "TO VENUS AND BACK" (1999).

For additional information, please see The Atlantic Group website at www.atlantic-records.com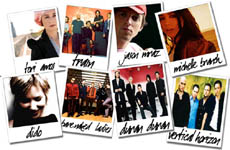 October 3, 2003

* Tori performs a solo set at MixFest X at The FleetCenter in Boston, Massachusetts. The concert also featured performances by Duran Duran, Michelle Branch, Train, Dido, Vertical Horizon, Barenaked Ladies and Jason Mraz.



Tori's set:

House of the Rising Sun | I'm On Fire | Take to the Sky (with I Feel the Earth Move excerpt) | The Needle and the Damage Done (excerpt) | Leather | Smells Like Teen Spirit

November 18, 2003



* Atlantic Records releases Tales of a Librarian: A Tori Amos Collection. This "best of" album includes songs from throughout Tori's career that she re-recorded and remastered, as well as two previously unreleased songs, Angels and Snow Cherries from France.

"I'm referring to it more as a 'best-of' because I think to have a 'Greatest Hits' you need like ten Top Ten hits. This is more of a chronicle of what we know of Tori from 1990 to 2003 . . . So it's from her perspective of the last many years, having traveled around the world and going through her own personal stuff. And the songs do that. Maybe it's the closest thing to an autobiography of this woman's life that there's ever been.

"It includes things like 'Precious Things' and of course 'Silent All These Years,' 'Cornflake Girl,' 'Spark,' songs that people might be familiar with on one level. And then there are quite a lot of songs that I felt gave you more story and a bit of sizzle with variations musically. It had to represent a whole musical spectrum because that's very much a part of the story. It's not just the ballads. It's not just what you heard on the radio.

"Tracking down some of these tapes was an awesome task. I think they might have been in somebody's dorm room somewhere [laughs] . . . I'm serious, the libraries that were supposed to be taking care of the masters were not intact. So we had people chasing down masters all over the world. We found some in -- you'd be amazed -- in like the playroom of their house. It's like, 'What's "Winter" doing there?'" [rollingstone.com - September 5, 2003]


December 19, 2003

* Tori Amos makes her big screen debut in the Julia Roberts movie Mona Lisa Smile. Tori has a cameo appearance as a big band singer at a wedding party. She contributed two songs to the film - You Belong to Me and Murder, He Says - which appear on the soundtrack album.



before | after


---
t o r i p h o r i a
tori amos digital archive
yessaid.com