songs | interviews | photos | tours | boots | press releases | timeline

---
Tori Amos: timeline
[before] [1963-1968] [1969-1974] [1975-1977] [1978-1983] [1984-1989] [1990-1992] [1993-1994] [1995-1996] [1997-1998] [1999-2000] [2001] [2002-2003] [2004-2005] [2006-2008] [2009-2010] [2011-2013] [2014-2017] [2018-2023] [future & now]


---
2011-2013

May 5, 2011


* A press release announces Tori's twelfth studio album, Night of Hunters.

Tori says in the announcement: "I have used the structure of a classical song cycle to tell an ongoing, modern story. The protagonist is a woman who finds herself in the dying embers of a relationship. In the course of one night she goes through an initiation of sorts that leads her to reinvent herself allowing the listener to follow her on a journey to explore complex musical and emotional subject matter. One of the main themes explored on this album is the hunter and the hunted and how both exist within us."

She also says: "It's a 21st century song cycle inspired by classical music themes spanning over 400 years. I have used the structure of a song cycle to tell an ongoing, modern story. The protagonist is a woman who finds herself in the dying embers of a relationship. In the course of one night she goes through an initiation of sorts that leads her to reinvent herself allowing the listener to follow her on a journey to explore complex musical and emotional subject matter. One of the main themes explored on this album is the hunter and the hunted and how both exist within us."

June 20-23, 2011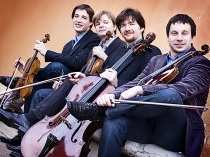 * The Apollon Musagète Quartett visit Cornwall, England, to record with Tori Amos for Night of Hunters. They also plan to tour with her on the 2011 Night of Hunters tour, performing songs from the new album as well as songs from Tori's back catalog, with new string arrangements by John Philip Shenale.

September 1, 2011

* Tori travels to Berlin, Germany, to make an appearance at Universal Music GSA's annual meeting, held at the Admiral Palace. She performs for the guests and poses for photos with Christian Kellermann (Managing Director of Universal Music Classics and Jazz) and Frank Briegmann (President of Universal Music GSA and Deutsche Grammaphon).

* Images from the event are posted at fezz.tv:




September 12, 2011

* Tori makes her first TV appearance to promote Night of Hunters, being interviewed on BBC Breakfast [watch on youtube].



before | after


---
t o r i p h o r i a
tori amos digital archive
yessaid.com