songs | interviews | photos | tours | boots | press releases | timeline | stories

---

press release | promo bio | discography | photos | tour | interviews

---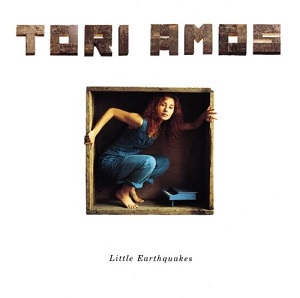 [liner notes] [booklet]

lyrics, quotes & videos

1. Crucify
2. Girl
3. Silent All These Years
4. Precious Things
5. Winter
6. Happy Phantom
7. China
8. Leather
9. Mother
10. Tear in Your Hand
11. Me and a Gun
12. Little Earthquakes

B-Sides

Upside Down
Thoughts
Sugar
Flying Dutchman
Humpty Dumpty
The Pool
Take to the Sky
Sweet Dreams
Angie (The Rolling Stones)
Smells Like Teen Spirit (Nirvana)
Thank You (Led Zeppelin)
Here. In My Head
Mary
Ode to the Banana King (Part One)
Song for Eric

Unreleased Songs

Berlin Wall
Learn to Fly
When I Was Dreaming


---


Little Earthquakes


Tori Amos's first solo album, Little Earthquakes, was recorded in 1990-1991, and released on January 13, 1992 (UK) and February 25, 1992 (US). The songs on Little Earthquakes were produced by Tori Amos, Eric Rosse, Davitt Sigerson and Ian Stanley.

"The record was essentially done in three phases," says co-producer Eric Rosse of Little Earthquakes. The first batch of tracks ["Crucify," "Silent All These Years," "Winter," "Happy Phantom," "Leather," and "Mother"] were cut at Capitol Records in Los Angeles with Davitt Sigerson producing. "The piano and vocal tracks were recorded first, and then everything else was built around them." A 40-plus piece of orchestra added layers of sweetening under the skillful guidance of arranger/conductor Nick DeCaro.

After hearing the first group of songs, the record company, surprisingly, balked. "They sort of pulled a Linda Blair," recalls Eric. "They came back and said 'What's this?' to this beautiful work." So Eric and Tori disappeared into Eric's home studio for phase two, which yielded the songs "Girl," "Precious Things," "Tear In Your Hand," and "Little Earthquakes." "It was the buck-and-a-half phase where money was really, really limited," laughs Eric. "Everything was pretty much done by the skin of our teeth. We used my old 3M 24-track analog machine, a decent commando-style Allen & Heath board, and a Yamaha CP-80 piano. We also went outside to a little place called Stag Studios, where they had a nice Yamaha grand."

For phase three, Tori jetted to England where she recorded several B-sides and the songs "China" and "Me and a Gun" (produced by Ian Stanley). During those sessions, Tori surprised her team of collegues with an impromptu performance. Eric recalls, "One of the B-side cuts came together on the spur of the moment. It was a tune called 'Thoughts' and she wrote it as the tape was running, literally. We were getting sounds while she was doodling on the piano and I said, 'What's that?' So we just hit record and she wrote it in one pass." [Keyboard - September 1992]



Eric Rosse and Tori Amos, 1992


---
Little Earthquakes Lyric Diaries

Tori told CNN in 1996 that "Little Earthquakes, in truth, was much more like a diary form of things that have happened in my whole life, finding my own voice." She even wrote many of the lyrics in spiral-bound notebooks like a diary. Two appeared on ebay years later, one from 1990 with Disney's The Little Mermaid on the cover, and one from 1991 with a Mike Gallagher Show logo.

1990 lyric notebook




1991 lyric notebook



[read the complete 1991 notebook as a .pdf]


---
Little Earthquakes promotional video




---
Tori talks about Little Earthquakes
"I started making Little Earthquakes with a bag full of memories and experience I had to get rid of." [Hitkrant - March 12-19, 1994]

"I think Little Earthquakes was really about looking at things I had to look at, my first door opening up to things I'd closed off since I was a little kid. I'd numbed parts of myself so they wouldn't get hurt." [Times Union - April 5, 1994]

"I was a rock chick for years. About a year after that, I ran into this journalist who wrote this big exposé. I said, 'Why couldn't you give me credit for putting those snake pants on of my own volition? What did you think the words on Little Earthquakes were about? I whored myself, and it horrified me. After that record [Y Kant Tori Read] I threw out everything. My piano, even. I chucked it!' But not because of the clothes. There's nothing wrong with snakeskin trousers and hairspray. It was because the music wasn't honest.

"It's kind of like trying to stay alive. At that point, Little Earthquakes was my first, um, attempt at getting out of the egg. You know, that little chicken that kinda kicks out the egg [imitates chicken] and says, 'Okay, um, what have I really not been saying all these years?' You know, you can wear the plastic snake pants and put 15,000 holes in your body, which is fine. Enjoy it [laughs]. But what am I saying? I'm just saying absolutely Nothing. So I started to think about... what is the most powerful thing I can do for myself? The truth is actually the most shocking thing you can do because nobody really hears it much. So when you start saying things truthfully, and I mean truthfully, there's no greater... freedom than that, and I was really dying. So I had to find out, I had taken on all of these belief systems. Whether you go from Christianity to Buddhism to God, I'm going to be one of those Mary Magdalenes, YES [raises arms]. I mean, to finally say, 'No, wait a minute, I'm just, who's this redhead?' Dyed of course. But, you know, what are my beliefs? Not what you want me to believe. Or what I should believe. But what do I really, really believe? And if there are a million people telling me I'm out of my mind, that should really be inconsequential. Because it's not your truth, it's gotta be mine. And same with you, you know?" [UCLA Speech - March 5, 1995]

"I don't find my record depressing. There are moments of incredible acknowledgement of when I've been not true to myself -- when I listen to everybody else. But I gotta take responsibility for that."


---
Little Earthquakes press release
Atlantic Records, 1992




Little Earthquakes magazine ad
from Q magazine (UK), February 1992




Little Earthquakes magazine ad
1992




Little Earthquakes magazine ad
from Spin magazine (US), May 1992


---
* be a yessaid patron, support the Tori archives *

t o r i p h o r i a
tori amos digital archive
yessaid.com